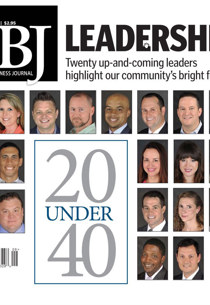 Five University of Southern Indiana graduates are featured in Evansville Business Journal's 2013 "20 Under 40," an annual list of up-and-coming leaders.
Each year, 20 young professionals under 40 years of age are chosen to be featured on the cover of EBJ and in an advertisement in its parent publication, the Evansville Courier & Press.
The USI alumni featured in EBJ's 2013 "20 Under 40" are:
Jacque Keneipp Barnette '05, social science teaching
Danyelle Granger M'06, public administration
Phil Rawley '01, M'04, business administration
Anne Shoemaker McKim '10, political science
Ashley Vezzoso '04, public relations and advertising
Individuals are selected for the list based on professional accomplishments, community involvement and leadership potential.
These five join USI alumni who were honored in 2010, 2011, and 2012.