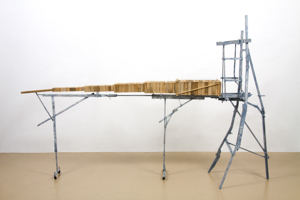 The work of two artists with Indiana connections will be on display this fall at the Kenneth P. McCutchan Art Center and Palmina F. and Stephen S. Pace Galleries. The exhibit, featuring the work of Elizabeth Mumford and Katie Hudnall, runs September 22- November 1.
Elizabeth Mumford, a painter who lives and works in Cape Cod, Massachusetts, grew up on a farm in Posey County, Indiana.  Mumford's exhibit, "Painting My Own Back Yard," presents narratives of her memories of growing up in Indiana and of her current home on Cape Cod. 
Mumford holds a bachelor's degree in art from Smith College and a master's degree in teaching from Tulane University. Her work draws upon early American and other folk styles and a variety of sources including Poor Richard's Almanac, American folk sayings, 18th and 19th century poetry, and sea chanteys. Her images have been made into prints, cards, jigsaw puzzles, needlepoint and even a potato chip bag design. She has taught art classes from the elementary school to college levels in Hawaii, Indiana, and Massachusetts.
Katie Hudnall is a sculptor and woodworker who teaches at the Herron School of Art at Indiana University-Purdue University Indianapolis. Hudnall's exhibit, "Moving Parts," features intricate wood pieces and complex and elaborate sculptural forms held together in a precarious-looking manner, seemingly on the verge of collapse. She describes the pieces as metaphors for our relationships with one another; The imperfect edge of one piece fitting perfectly against the imperfect edge of another.
Hudnall holds a BFA in fine arts/sculpture from Corcoran College of Art and Design and MFA in furniture design and woodworking from Virginia Commonwealth University. Her wood sculptures have won awards in juried exhibitions and been included in numerous shows and publications. She serves on the Furniture Society board of trustees.
A reception will be held from 1:30 to 4 p.m. Sunday, September 22. Both artists will be present and Mumford will present a gallery talk from 1:30 to 2 p.m. The reception is free and open to the public and refreshments will be served.
The McCutchan Art Center/Pace Galleries, located in the lower level of the Liberal Arts Center, is open from 10 a.m. to 4 p.m. Monday through Friday and 1 to 5 p.m. Sunday. For more information, call the art center at 812/228-5006 or Kathryn Waters, USI professor of art and director of the McCutchan Art Center/Pace Galleries, at 812/464-1933.