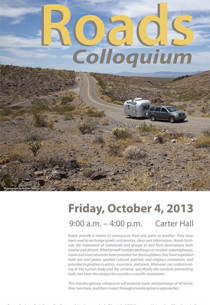 "Roads," the 2013 Interdisciplinary Colloquium hosted by the University of Southern Indiana's College of Liberal Arts and Center for Interdisciplinary Studies, will be held from 9 a.m. to 3 p.m. Friday, October 4, in Carter Hall in the University Center.
Roads provide a means of conveyance from one point to another. They have been used to exchange goods and services, ideas and information. Roads facilitate the movement of individuals and groups to and from destinations both nearby and distant.
Whether well-trodden pathways or modern superhighways, roads and road networks have provided the thoroughfares that have expedited both war and peace; sparked cultural, political, and religious revolutions; and provided inspiration to artists, musicians, and poets. Moreover, our understanding of the human body and the universe, specifically the conduits permeating both, has been the catalyst for countless scientific revolutions.
"Roads" will examine roads and pathways of all forms - their functions and their impact – through interdisciplinary approaches including research, scholarship, art, literature, poetry and film. 
A reception will be held from 3 to 4 p.m., including a screening of the documentary film "In Harmony's Way: The Battle to Save the Bridge," produced by Dave Black, assistant professor of communications.
An associated event will be held the evening before the colloquium. Daniela Vidal, director of USI's Center for Applied Research and Economic Development, will present "A Road Back Home: How can I-69 Stop the Brain Drain in Southern Indiana?" at 7 p.m. Thursday, October 3, in Carter Hall.
All events are free and open to the public.
"Roads" is the ninth interdisciplinary colloquium sponsored by the Center for Interdisciplinary Studies and the College of Liberal Arts. For more information, including a schedule of events and abstracts of presentations, go to www.usi.edu/libarts/intl/2013.asp.