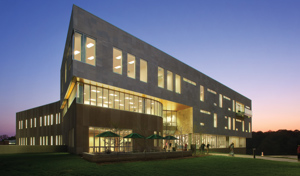 The University of Southern Indiana's Business and Engineering Center received an Honor Award for New Construction from the Indiana chapter of the American Institute of Architects (AIA) in the 2013 AIA Indiana Annual Design Awards Program. An Honor Award is the highest award a project can earn.
Michael Mohr, university architect, represented USI at the AIA Ohio Valley Region Convention Awards Luncheon on September 19 in Louisville, Kentucky, where award winners were announced. The Business and Engineering Center also was recognized in 2012 with a Merit Award for Architecture by the St. Louis chapter of the AIA.
Construction crews broke ground on the 125,000-square-foot Business and Engineering Center in summer 2008, and it was opened in fall 2010. The building houses the offices of the Romain College of Business, as well as facilities designed for use by the Pott College of Science, Engineering, and Education's Engineering Department.  The building was designed to promote collaboration and support integration between business, technology, and engineering with a goal of increasing innovation and entrepreneurship.
AIA judges called the four-story Business and Engineering Center "an exciting and formally innovative addition to the campus quadrangle," particularly admiring its adept use of materials, which include brick, limestone, and glass. "Ample day lighting paired with generous circulation/gathering spaces create social spaces for the exchange of ideas across two historically separate campus cultures – business and engineering," judges wrote.
"Its presence contributes to the spirit of innovation on campus by being a building that houses two distinct colleges in a way that allows them to be separate but joined in a very unique way," said Jack Faber, of Hafer Associates, PC, the project architect. St. Louis-based Hellmuth, Obata and Kassabaum (HOK) was the design architect.
Signature features of the building include the Rosemary and D. Patrick O'Daniel Atrium, a central area connecting all floors in the building with a monumental stair; the 52-seat Romain Board Room on the third floor; and the Vectren Lakeside Study Lounge and Balcony, offering views of Reflection Lake from an enclosed outdoor space at the lower level, as well as a balcony on the second floor. All mechanical and electrical systems are designed to conserve energy use, and construction and finish materials are sustainable.
Specialized spaces for the business curriculum include a set of sales learning suites; several learning labs for decision support/negotiations, project management, web development, computer hardware/software, and entrepreneurship; a stock market simulation room; and several lecture halls.
           
Engineering-specific spaces include labs for environmental engineering, vibrations study, computer-aided drawing, biomechanics, fluid mechanics, heat/thermodynamics, communications, digital systems, optics/modern physics, power and machines, surveying and materials testing; a design center; and a dedicated rooftop antennae space for communications experiments.