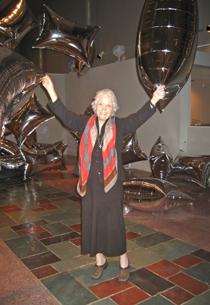 A new lecture series honoring the late Jane Blaffer Owen has been established in New Harmony, Indiana.
"Jane Blaffer Owen had an enormous and beautiful influence on those blessed to be observers of her life," said Meredith Leffel, a member of the committee organizing the lecture series. "A gathering of family and friends – all invested in the past, present, and future of New Harmony – met monthly for over a year after her death to commiserate our loss and brainstorm as to how we might combine efforts to honor her and keep pieces of her worthy work afloat in her beloved New Harmony."
"Art, Faith, and Mystery," the first lecture in the series, will be held at 3 p.m. Sunday, September 8, at the Granary, 413 West Granary Street in New Harmony. Speakers Tobi Kahn and Gregory Wolfe will reflect on how art offers insight into the underlying reality of time and subject.
The lecture is free and open to the public and will be followed by a reception.
Wolfe is the founder and editor-in-chief of Image, a literary and arts quarterly journal founded in 1989 as a unique forum for the best writing and artwork informed by religious faith. He also serves as writer in residence and director of the M.F.A. in Creative Writing program at Seattle Pacific University.
Kahn is an award-winning painter, sculptor, and lecturer whose work has been shown in over 50 solo exhibitions and over 60 museum and group shows since he was selected as one of nine artists to be included in the 1985 Guggenheim Museum exhibition, New Horizons in American Art. Works by Kahn are in major museum, corporate, and private collections.
For more information about Wolfe and Kahn, go to www.janeblafferowenlectureseries.com.
"This first Annual Jane Blaffer Owen Lecture is envisioned as an example of what we hope we can fund and maintain," Leffel said. "The committee welcomes input regarding topics and speakers. We appreciate support so that we can provide the lectures free to the public."
About Jane Blaffer Owen
In 1941, Jane Blaffer married Kenneth Dale Owen, a descendant of Robert Owen, and adopted New Harmony as her home. She established the Robert Lee Blaffer Foundation to preserve and promote the town's historical and educational attributes. Among other initiatives, she commissioned Philip Johnson to design the Roofless Church; orchestrated the building of architect Richard Meier's Atheneum/Visitors Center; envisioned a spiritual retreat center and created the Macleod Barn Abbey; inspired and supported the restoration of the Rapp-Owen Granary; and encouraged spiritual awakening through the Cathedral Labyrinth, built for meditation and prayer.