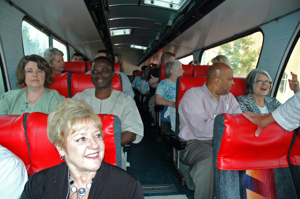 Over 50 faculty and staff members from the University of Southern Indiana, University of Evansville, Ivy Tech Community College, and Vincennes University will meet on Tuesday, August 13 for the annual Day on the Bus event. Hosted by all four institutions, Day on the Bus takes educators out of the classroom to get a look into big organizations and industries in the region, gaining insight into their specific challenges, how they operate, and what they look for in future employees.
Sponsored by Old National Bank, Day on the Bus 2013 will focus on industries "here, near, and far away." This year's participating organizations will include Old National Bank, Berry Plastics, Flanders Electric, and the Ford Center as they represent homegrown organizations that also have a state, national, and global impact.
The purpose of the event is to promote long lasting collaboration business to university and university to university. This unique experience gives educators the chance to network with peers from other institutions and identify potential research projects they could not have known about from their campuses.
While the majority of students who attend USI, UE, Ivy Tech Community College, and VU are from this area, many of the educators are not. Day on the Bus gives the participants the opportunity to learn about the community they live in, and better prepare their students for employment in the region.
To date, over 400 faculty and staff members have participated in Day on the Bus. Some organizations that have participated in the past include Kimball International, Holiday World and Splashin' Safari, Toyota Motor Manufacturing Indiana, Alcoa, Berry Plastics, St. Mary's, Shoe Carnival, and Vectren.
For more information on Day on the Bus, contact USI's Center for Applied Research and Economic Development at 812/228-5180 or appliedresearch@usi.edu.