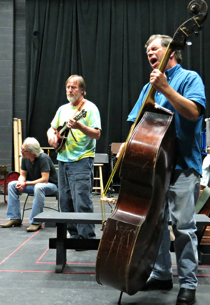 The University of Southern Indiana's New Harmony Theatre will draw to a close its 2013 summer season with the musical comedy Cotton Patch Gospel by Tom Key and Russell Treyz with music and lyrics by Harry Chapin July 19-21, July 26-28, and August 2-4.
Cotton Patch Gospel is directed by Eric Altheide, New Harmony Theatre's resident associate director and assistant professor of theatre at USI. This humorous and heartwarming bluegrass musical retells the New Testament from a Southern perspective that begins when the baby Jesus is born in an abandoned trailer behind a motel in Gainesville, Georgia.
The story of this bluegrass musical will be told by Larry Tobias with help from his band of disciples, including Sonny Franks, Willy Welch, and Evansville locals Jolie DeVries and Jon Isaac Lutz.
Tickets are on sale now and may be purchased at any time. All evening performances start at 7:30 p.m. and matinees begin at 2 p.m. Adult tickets are $35 and discounted tickets are available for students and seniors.
New Harmony Theatre is a professional Equity theatre produced by USI and is the Tri-state's only professional Equity theatre. Plays are performed in the historic Murphy Auditorium located at 419 Tavern Street in New Harmony.
For more information or to make a purchase, visit www.newharmonytheatre.com or call the box office at 812/682-3115 or toll free 877/NHT-SHOW.