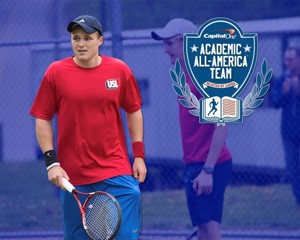 For the second time in his career, University of Southern Indiana senior Ben Boesing was named first-team Capital One/CoSIDA Academic All-America At-Large Thursday.
To be eligible for Academic All-America® consideration, a student-athlete must be a varsity starter or key reserve, maintain a cumulative G.P.A. of 3.30 on a scale of 4.00, have reached sophomore athletic and academic standings at his/her current institution and be nominated by his/her sports information director. Sports in the at-large program consist of women's bowling, men's and women's fencing,women's field hockey, men's and women's golf, men's and women's gymnastics,men's and women's ice hockey, men's and women's lacrosse, men's and women'srifle, women's rowing, men's and women's skiing, men's and women's swimming, men's and women's tennis, men's volleyball, men's and women's water polo and men's wrestling.
Boesing joins two others from the Great Lakes Valley Conference on the first team, Matt Baker (wrestling) of Maryville University and Rodolfo Gauto-Mariotti (tennis) of Rockhurst University.
This is the Screaming Eagles' fourth Academic All-America award during the 2012-13 year. Also named Academic All-America from USI were seniors Susan Ellsperman and Austin Andrekus, along with junior Brad Wannemuehler.
Boesing is the fourth student-athlete at USI to be selected two-time Academic All-America, as he joins, LeAnn Freeland (1996 and 1997), Matt Keener (2004 and 2005) and Ellsperman (2011 and 2012).
Also for his work in the classroom this season, Boesing garnered the NCAA Elite 89 award in May, which is given to the student-athlete who has achieved the highest academic standard among his or her peers competing at their respective NCAA II National Championship.
The Floyd Knobs, Indiana, native won a school record 83 singles matches and is second all-time at USI in combined victories with 162 wins. He also has the fourth longest winning streak in program history at 18 straight matches.
Boesing also helped the Screaming Eagles win the NCAA Division II Midwest Region Preliminary Round and advance to the NCAA Championships for the first time in program history.
"Ben is a true student-athlete, he is as consistent in the classroom as he is on the court," said head coach Chris Crawford. "He has really represented USI to the very best."