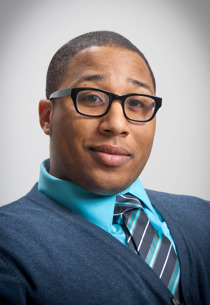 Marcus Wicker, USI assistant professor of English and nominee for an Outstanding Literary Work-Poetry Award, has joined a new rank of highly distinguished writers—Raymond Carver, Joyce Carol Oats, Tim o'Brien—now that his poem "Interrupting Aubade Ending in Epiphany" has been selected for the 2014 Pushcart Prize anthology.
"I've dreamt of winning a Pushcart since the first time I saw my name in print. It feels pretty incredible to be included in an anthology known for its consistent excellence; a text I've taught from more often than not," Wicker said.
His poem first appeared in the 2012 spring issue of USI's literary magazine Southern Indiana Review—before Wicker joined the faculty at USI—a fact he wants USI students to be aware of when they go to submit their own work for publication.
"USI students have unique access to a literary magazine of national merit while most of their counterparts across the country will have to wait until graduate school to be aligned with a similar publication," he said.
"The Pushcart Prize brings national and international recognition to Mr. Wicker's work and places him in the company of other well-known writers," said Dr. Stephen Spencer, chair of USI's English Department. "This recognition significantly raises the profile of USI's Creative Writing program and Southern Indiana Review."
Wicker was introduced to poetry through slam poetry performances when he was a teenager in Ann Arbor, Michigan, and his debut book of poetry Maybe the Saddest Thing was published by Harper Perrenial (a paperback imprint of HarperCollins Publishers) in October.
Wicker earned his bachelor's degree at Western Michigan University in Kalamazoo and Master of Fine Arts degree from Indiana University in 2010, and then spent seven months at the Fine Arts Work Center in Provincetown, Massachusetts, working on his book. He is poetry editor of Southern Indiana Review and is leading the New Harmony Writers Retreat, which will launch in summer 2014.
The Southern Indiana Review presents a cross-section of emerging and established artists and writers whose work is both regional and national in scope and degree of recognition. With the support of the Indiana Arts Commission and National Endowment for the Arts, the literary journal is published in October and May by the University of Southern Indiana and sponsored by the College of Liberal Arts. The editors invite submissions of poetry, fiction, interviews, art work, photography, critical essays, and reviews between September 1 and April 30. For more information go to http://www.southernindianareview.org/