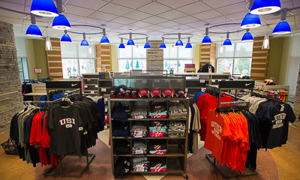 Beginning in fall 2013, University of Southern Indiana students can take advantage of a new purchasing program at the campus bookstore. Students will have the option of charging textbooks and supplies to their accounts with the Bursar's Office, which will combine bookstore fees with tuition and other University expenses, allowing students to set up payment plans that best fit their needs.
"As an institution sensitive to costs and with student success at the core of our mission, we feel allowing students to charge required books and supplies is a good decision," said Steve Bridges, assistant vice president for Finance and Administration and assistant treasurer. "It's a service that we feel strongly about offering and that is not available from other book providers. The days of a student not having the tools to be successful have ended."
The bookstore also will continue its initiative to encourage students to support their University and save money by matching textbook rental prices. If students find lower rental prices at local stores, they are encouraged to alert bookstore staff and rental prices will be matched. Verification of the current published price is required and the matching program does not apply to online vendors.
More changes are expected at the University bookstore this summer. A major remodeling  scheduled to be complete in July will include a new name and enhanced policies and products.  Read more here.