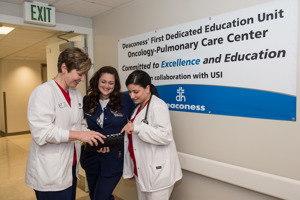 The University of Southern Indiana is pleased to announce a new endeavor with Deaconess Hospital to establish a second Dedicated Education Unit (DEU) in Evansville. USI opened its first DEU at St. Mary's Medical Center in January. The collaboration between USI's College of Nursing and Health Professions and Deaconess Hospital provides nursing students an opportunity to gain clinical education and experience under the guidance of knowledgeable nurses.
"We have long been partners with Deaconess in offering innovative learning opportunities for students. The DEU provides undergraduate nursing students with an immersion experience in a hospital environment," said Dr. Ann White, dean of the College of Nursing and Health Professions.
The new oncology/respiratory DEU, operates under the same model as the renal and diabetic unit established at St. Mary's Medical Center. Both units differ from other state DEU models in that they are geared for college juniors enrolled in their second medical surgical course rather than seniors taking their practicums. This model was the first and is the only of its kind in the state.
Nine nurses at Deaconess Hospital act as Clinical Teaching Partners (CTPs) in mentoring 18 USI nursing students. CTPs are paired with just two students at a time, and the students learn from the same nurse during the entire four-week clinical rotation. Students work five, 12-hour shifts during each rotation.
"The DEU provides students a more extensive learning experience than they would ordinarily encounter in a tradition five or six-hour clinical shift," said Jennifer Titzer, USI instructor of nursing and Deaconess DEU liaison. "This experience increases the opportunity to perform patient care skills, which enhances students' understanding of the nursing role and scope of practice. Having the opportunity to work with one nurse as a clinical teaching partner during the entire DEU rotation makes for a comfortable learning environment, and in turn leads to a more confident student health-care provider."
"The Oncology-Pulmonary Care Center at Deaconess Hospital is honored to have been chosen to collaborate with the University of Southern Indiana College of Nursing and Health Professions in initiating this innovative clinical teaching model," said Angela Stroud, manager of the Oncology-Pulmonary Care Center at Deaconess Hospital. "Initiating the DEU provides our nurses with the opportunity to not only be expert bedside clinicians, but also partners them with clinical educators from USI to provide education to nursing students and help shape the future of nursing. Having the student nurses work the Clinical Teaching Partner's (CTP) schedule gives the student a more realistic experience of what is going on throughout the nurse's entire shift versus a traditional clinical model. It also creates a more cohesive partnership between the CTP and the student. We're excited to participate with USI in this new learning program."