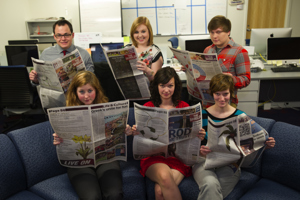 The University of Southern Indiana's student newspaper The Shield was named Division II Newspaper of the Year at the Indiana Collegiate Press Association (ICPA) conference held April 13 in Bloomington, Indiana. The Shield shares the honor with Butler University's Butler Collegian.
The newspaper's staff garnered 27 other awards, including second place for Best Single Issue, Best Themed Issue, Special Issue, and Best Pullout or Wrap Section, and third place for Best Themed Issue and Best Pullout or Wrap Section. "We have a great group of students staffing The Shield and I can't say enough about the positive efforts of their advisor, Erin Gibson," said Dr. J. Wayne Rinks, chair of the Department of Communications.
Attending the event along with Gibson, who is also executive director of ICPA, were Jimmy Pyles, editor-in-chief; Kelsey Turner, visual editor; Jessie Hellmann, news editor; Shannon Hall, life and culture editor; James Vaughn, staff writer; Meredith Harris, staff writer; and former sports editor Pat Hickey.
Those students received the following individual awards:
Pyles: First place for Best News Feature; second for Best Sports Page; First and second for Best News Photo; Second for Best Feature Photo; and first for Best Photo Essay or Picture Story
Turner: Third place for Best Special Section Front; Second for Best Feature Page, and first and second for Best Information Graphic
Pyles and Turner shared a first-place win for Best Overall Design
Hellmann: First place for Best Non-Deadline News Story and first for Best In-Depth Story
Hall: Third place for Best News Feature
Vaughn: Third place for Best Non-Deadline News Story
Harris: First place for Best Entertainment Story
Hickey: Second place for Opinion Column and second place for Best Sports Feature
In the Advertising category:
Kaitlin Crane, sales and marketing layout coordinator: second in Best General Media Kit and third for Best Display Ad
Kelsey Ziliak, former marketing manager: third in Best Design for Black and White House Ad
The Shield won second place for Newspaper of the Year in 2007, but this is its first top award in the contest.
"We are very proud of these students and appreciate their contributions to the University community," said Dr. Marcia Kiessling, associate provost for student affairs. "There are many opportunities for student learning and development at USI, and this is a great example of students who are being recognized because of their hard work and developing skill sets."
Gibson said that though the newspaper has been consistently good in recent years, the students are now telling stories in different ways and including alternate storytelling forms. For example, one of Pyles' first-place awards was for a photo essay about Greek Week.
This staff has also collaborated more, she said. "One example is the 'How to Vote' graphic that was on the front page in early October. When I picked up the newspaper that day, I could tell that they talked about the process and the information students needed to vote. Not only was it visually stunning, but it was informative and showed they were thinking about the reader, and that's special."
In other conference business, Pyles and Hellmann were elected to the 2013-14 ICPA board and will serve respectively as president and vice president of small newspapers. Gibson is in her first term as executive director.