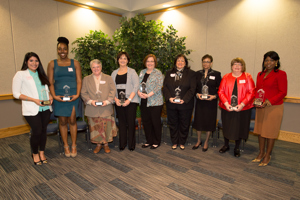 Nine women were honored on March 21 at the 2013 Phenomenal Women of USI and Community Recognition Ceremony, sponsored by University of Southern Indiana's Multicultural Center, Old National Bank, and the American Association of University Women.
Phenomenal Women recognizes nine women in six categories: USI undergraduate student, USI alumni, USI faculty, USI administrative staff, USI support staff, and community-at-large.

The 2013 Phenomenal Women are listed here:
Ariel Crenshaw is a USI undergraduate student pursuing a degree in biology. She is an active member of the Black Student Union and College Mentors for Kids and serves as secretary for the Diversity Project. Crenshaw became the first person to lead a civil rights march on USI's campus when she organized a march for Trayvon Martin in spring 2012. She also traveled to Ghana, where she served as an ambassador of the University. She is currently a resident assistant for the STEM (Science, Technology, Engineering, and Math) Living Learning Community in Ruston Hall.
Cindy Alfaro is a USI undergraduate student and resident assistant. She serves as president of the International Club and is a member of USI's Latinos Unidos, an organization that promotes the involvement of Hispanic and Latino students. As one of the leaders of the Spanish Interpreter Tour Guide program, she has leads campus tours and helps prospective students understand what USI has to offer. She also is involved in the Diversity Project and volunteers at Nativity Church where she teaches children's religion lessons.
Monica Stinchfield is a senior vice president at First Federal Savings Bank in Evansville. Her entire 32-year career has been with First Federal, where she started as an entry level accounting clerk and worked her way up to her current role. She has been instrumental in the bank's growth from a local savings and loan group to a publicly traded company. She has served as a member of the board of directors of Hospitality and Outreach for Latin Americans since 2006 and has been a member of the board of directors of Habitat for Humanity Evansville since 2004.  She was a member of the Women's Council of Realtors for many years and was named Member of the Year in 2002 and 2006. She was named Volunteer of the Year by First Federal Savings Bank in 2011.
Dr. Joyce Gulley, associate professor of education at USI, was recognized by the Indiana Reading Association for initiating a program at a local elementary school that focused on developing literacy among students. As director of Early Field Experiences, she started an after-school tutoring program for kindergarten through 12th grade students. She also is responsible for the implementation of a co-student teaching model that earned USI recognition by the Indiana Association of Colleges for Teacher Education.    
Ginger Ramsden, director emerita of the USI Center for Education Services and Partnerships, is a consultant for Evansville ARC and a member of the organization's board of directors. She was instrumental in developing the Child Life Center, to meet the needs of both normally developing children and children with disabilities. She also was involved in developing the Community Job Link Program that created employment opportunities for adults with developmental disabilities. In addition, she made it possible for low-income families to utilize the USI Children's Learning Center by developing a partnership with Head Start and securing a federal grant to subsidize child care. She spearheaded an expansion of the College Achievement Program (CAP), which allows high school students to earn college credits. She has served on several community committees and boards including United Way, 4C of Southern Indiana, Evansville Vanderburgh School Corporation, and Girl-In-Bloom. Her work to improve the lives of children was recognized with the Karen D. Magan Inspiring Life Award in 2007.
Julie Bordelon, senior administrative assistant in Distance Education, assists students enrolling in distance learning coursework. In her previous role in the International Programs and Services Office, she was an important contact for students who came to USI from around the world. She consistently expressed a genuine interest in students' backgrounds and customs. She is known for making new students feel like part of the USI family. She also served as president of the Administrative Assistants and Associates organization for two terms.
Frankye Calloway was involved in several programs for minority and at-risk students during her 30-year tenure as a third and fourth grade teacher at Caze Elementary School in Evansville. She coached the Caze Academic Olympics for 15 years, coordinated the school's Veterans Day and Black History programs for more than 20 years, and since her retirement remains involved in the Indiana State Teachers and EVSC Retirement Associations. She was awarded the Life-Time Achievement Commitment to Education award by the Evansville NAACP chapter and was selected by her peers to participate in the Purdue University Long Distance Learning professional development program. She has organized Pink Sunday for the Susan B. Komen Race for the Cure and the Toys for Tots program at New Hope Baptist Church, where she also served as director of Vacation Bible School and the New Hope Youth Program. She was awarded the prestigious Golden Hoosier Award for Outstanding Community Service. She also was appointed by Mayor Lloyd Winnecke to the Evansville Public Board of Safety and has served as co-chairperson for the Evansville African Museum's capital campaign.  

Sue Ann Hartig has worked for more than 26 years to provide legal services to citizens of Vanderburgh county as executive director of the Legal Aid Society of Evansville. After graduating from University of Evansville and Indiana University School of Law, she was court commissioner for Judge William H. Miller, becoming the first female judicial officer in Vanderburgh County. She also served as the attorney for the city of Evansville and was an adjunct professor at USI, University of Evansville, Ivy Tech Community College, and the Southwestern Indiana Law Enforcement Academy. She was appointed to the Indiana Pro Bono Commission by Indiana Supreme Court Justice Randall Shepard in 2006 and was a member of the Evansville Vanderburgh Commission on Domestic Violence and Sexual Assault. Her work has been recognized with several awards, including Leadership Evansville's 2012 Servant Leader Award, YWCA's 100 Years  100 Women, the 2009 United Way Spirit Award, the 2004 Evansville Bar Association Spirit of Justice Award, the 2003 Evansville Bar Association James Bethel Gresham Award, and the 2003 Volunteer Lawyers Program Staff Attorney of the Year. She also was nominated for the Athena Award in 2012 and is a founding member of the Parenting Time Center and the advisory group for Bridges out of Poverty.
Sabrina Stewart-Thomas is a graduate of the 2011 Leadership Evansville class. She serves on the board of the Young Women Christian Association Evansville, Ivy Tech Community College School of Business Advisory Council, Community Action Program of Evansville, and Growth Alliance of Greater Evansville. She also is serving a second term as president of the Evansville Alumnae Chapter of Delta Sigma Theta Sorority and is a member of the Leadership team at New Hope Baptist Church. She was the recipient of the Allen N. Pope Merit Award and received a certificate of accomplishment from the Birmingham Alumnae for her service to non-profit organizations.   
Held at USI during Women's History Month, Phenomenal Women awards honor and celebrate women from all walks of life who have made contributions to diversity in the USI and Evansville communities. Through the annual recognition of these contributions, the Phenomenal Women program hopes to inspire others to embrace and promote diversity within their own lives.