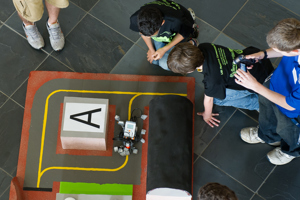 The University of Southern Indiana's student chapter of the American Society of Mechanical Engineers (ASME) and Southwestern Indiana STEM (SwISTEM) Resource Center will host the sixth annual Robotics Competition starting at 9 a.m., Saturday, April 20 in USI's Carter Hall in the University Center. This event is free and open to the community.
Through the Robotics Competition, middle school, high school, and college students have the opportunity to learn foundational elements of this field by designing, testing, and implementing LEGO Mindstorm robotic systems.
About 100 students from 30 teams participated in last year's event, and Dr. Natasha Smith, assistant professor of engineering and faculty advisor to USI's ASME student chapter, said she hopes this year's competition will draw an even larger pool of competitors.
This year's objective is centered around recycling. It is estimated that three out of four items thrown into the garbage could be recycled. Curbside recycling began in Evansville in 1997, but the amount recycled has declined every year since the program's inception. In January, the city launched a new single-stream automated recycling program, which eliminated curbside sorting by waste collectors and allowed them to dump all recyclables in the same bin. USI has participated in single-stream recycling since last fall.
Teams competing in the robotics event will be tasked with creating autonomous vehicles that can traverse a variety of terrains, collect recyclables, and deliver those recyclables to a processing center.
Members of the ASME student chapter developed the course. "They aimed to create a course with increasing levels of difficulty – something that would offer a realistic chance of success for novice competitors yet still be challenging for more experienced teams," Smith said.
The deadline for registration for the Robotics Competition is 5 p.m., Friday, April 5. Teams can register online by completing the registration form.
Established in 2008 with its inaugural event, the Robotics Competition is organized and run by USI ASME with the support of the faculty, staff, and students in the USI Department of Engineering.
USI's ASME chapter and the Pott College of Science, Engineering, and Education's SwISTEM Resource Center hope to expand the Robotics Competition into the Kentucky and Illinois regions to further promote science, technology, engineering, and mathematics initiatives in the Tri-state area.
For more information about the event, contact Allison Grabert by email at afgrabert@usi.edu or by phone at 812/228-5019. For other questions, consult the 2013 Robotics Competition Handbook, visit USI's ASME website, or contact Tyson Miller, member of USI's ASME student chapter, at tysonmiller@asme.org.