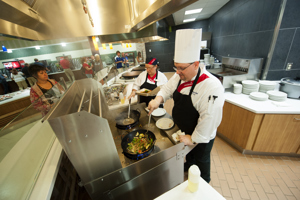 When Robert Fruit came to USI in fall 2011, he brought with him more than 20 years of experience in institutional food service and corporate dining.
Although that experience included the opportunity to cook for Bill Clinton, Nancy Reagan, and Norman Schwarzkopf, he will tell you that he much prefers his current role as Sodexo's executive chef. "I love my job. I love working on campus and having the opportunity to be a part of developing students' minds so they can flourish in class," he said.
Prior to moving to Evansville in 1994, he worked as a chef at an arts college and served large groups, some including political dignitaries, at Hyatt Place Hotel in Kansas City, Missouri. His background also includes positions at O'Charley's, American General Financial Services, and Mead Johnson, where he found that his true calling was cooking, rather than traveling and performing managerial duties within the food service industry. "I enjoy the institutional side of the business rather than free-standing restaurants because it allows for a better work-life balance," said Fruit.
Fruit is married to USI alumna Kim (Kissel) Fruit and they have a 12 year-old daughter. He holds bachelor's degrees in culinary arts and hospitality management from Johnson County Community College in Overland Park, Kansas, and is a Certified Chef from the American Culinary Federation.

One of the things that attracted Fruit to USI was the guest-driven culture. He recalls a major benefit being that effective sanitation and food safety policies were already in place, which allowed him to focus on big picture tasks.
The overhaul of the Loft became his first major project as executive chef and he was excited to be a part of shifting the restaurant from an all-you-can-eat buffet to making food fresh at the time of the order. "The number of students using the Loft has increased more than 20 percent from before renovations. That is a testament to the success of the project," said Fruit. "The Loft is an impressive restaurant compared to what I've seen in other schools."
While his primary responsibilities are overseeing resident dining in the Loft and managing the bakery and catering department for Sodexo, Fruit also collaborates with campus organizations to prepare for events such as USI's annual International Food Day. He also serves as Sodexo's representative on USI's environmental stewardship committee.

To gather feedback and keep students informed, Fruit works closely with the Sodexo Student Board of Directors. The group, made up of approximately 10 students, acts as Sodexo's eyes and ears in the student body. Fruit values customers' comments and welcomes suggestions on how to better tailor food service to meet their needs. "One of the things I like most about the University is that it's always changing and you're introduced to a new group of students each year," he said.