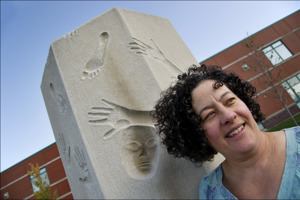 A reception for Roliqueries, an exhibition by Amy Brier, will be held at the New Harmony Gallery of Contemporary Art from 5 to 7 p.m. Saturday, March 16. The exhibition is free and open to the public.   
Roliqueries is an interactive art experience. The works start as a limestone sphere into which Brier hand-carves an original design. However, the artist does not consider this to be the final artwork. Instead, the viewer is encouraged to roll the spheres in the provided sand beds and participate in the creation of an ephemeral sculptural impression.
"Roliqueries are about revisiting the simple pleasure of touching sand," Brier said, "the thrill of watching a pattern emerge, erasing it, and rolling the ball again; the satisfaction of touching objects infused with geologic and historical memory; and the chance for each of us to create art."
Brier received her Master of Fine Arts degree in sculpture from Indiana University-Bloomington and Bachelor of Fine Arts degree in sculpture from Boston University. She is an assistant professor of fine art at Ivy Tech Community College, the founder and director of the Indiana Limestone Sculpture Symposium, and board member of the Stone Carvers Guild.
For more information, go to www.amybrier.com.
The New Harmony Gallery of Contemporary Art is located at 506 Main Street in New Harmony, Indiana. Regular hours are 10 a.m. to 5 p.m. Tuesday through Saturday. For more information, call 812/682-3156 or go to www.usi.edu/nhgallery.