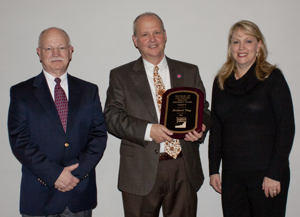 Richard Day, historian at Vincennes State Historic Sites in Vincennes, Indiana, has been awarded the 2012 Frank and Judy O'Bannon Heritage Engagement Award. Presented by USI's Historic Southern Indiana, the award recognizes an individual who is an exemplary model of community education activities.
Nominated by Bruce Beesley, vice president of Indiana State Museum and Historic Sites, Day has led a variety of community and educational nonprofit organizations devoted to the preservation and education of Indiana heritage. Over the years, he has skillfully implemented several effective ways to educate an assortment of audiences and show them the importance of history.
For more than 30 years, Day has served as the foremost proponent of heritage education in Vincennes and Knox County. He has presented Indiana's history to students (elementary through college level) and the public and has collected research that has helped increase today's understanding of colonial and territorial Indiana. He has also illustrated and authored several books as an artist-in-residence, written newspaper articles on Indiana history, and authored multiple historical markers.
"Richard's research and scholarship have changed the way Indiana's colonial and territorial eras are viewed and interpreted today," said Beesley. "He has helped remove many old myths and unfounded stories and replaced them with documented examples from the past that makes Indiana's history alive and relevant."
Day is an acknowledged expert resource for individuals interested in Indiana's early history and has set a standard for educational information based on facts. Organizations who have benefited from Day's research include the Indiana Arts Commission, Indiana State Supreme Court, George Rogers Clark National Park, Indiana Landmarks, Vincennes University, City of Vincennes, Knox County, and Indiana State Museum and Historic Sites.
Additionally, Day has participated in almost every heritage and history education and preservation-focused entities in Knox County. He currently serves as president of the Vincennes Historical and Antiquarian Association, president of the Old Town Players community theatre, president of the Old Northwest Corporation, curator of the Michel Brouillet House and Indian Museum, and vice-chair of the Vincennes Historic District Review Board. He has also been involved with the Center for French Colonial Studies and the Indiana Historical Society, Fort Knox II committee.
"The range and breadth of his efforts through the years, and his impact on a whole generation of Vincennes and Knox County history lovers and heritage enthusiasts, is impossible to measure," said Beesley.
Historic Southern Indiana, an outreach and engagement project of USI, was created in 1986 to serve the southernmost 26 counties of Indiana. Its goals are to identify, preserve, protect, enhance, and promote the historical, natural, and recreational resources of the region. It seeks to implement those goals through programs in historic preservation, history education, heritage tourism, community development, and scenic byways. Its office is a part of the Division of Outreach and Engagement.