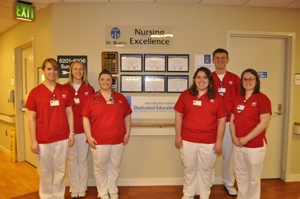 A collaboration between the University of Southern Indiana and St. Mary's Medical Center has created the first Dedicated Education Unit (DEU) in the state of Indiana. In the DEU program, St. Mary's experienced nursing staff act as Clinical Teaching Partners (CTPs), instructing USI junior nursing students while continuing to care for patients.
CTPs are paired with just two students at a time, and students learn from the same nurse during the entire four-week clinical rotation. This allows for a more hands-on experience and a consistent learning environment.
The USI-St. Mary's DEU is located in 6West, the renal diabetic floor in the hospital's west wing.
"The DEU is not just a clinical setting," said Susan Siebert, USI instructor in nursing and DEU liaison.  "It is a community of practice that embraces novices. Everyone on the unit strives to create a welcoming environment that engenders a sense of belongingness for the students.  Nurses are paired with the same students for the entire rotation which enables them to tailor clinical assignments to the student's learning style, learning needs, personal goals, and course objectives. The end result is a truly student-centered learning experience."
USI nursing student Meagan Cobb said that the collaboration will be "truly revolutionary" for USI's nursing program. "My instructor nurse was by my side throughout the clinicals," she said. "I felt very comfortable with her and learned not only the medical side of nursing but also how to interact with the patient in a nurturing and caring manner. Most importantly, she made me feel so much more confident and comfortable about my practice."
CTPs must meet certain qualifications and complete an eight hour course from the University to help them prepare. They are also given a copy of the student curriculum so that they can look for learning opportunities that complement the student's classroom experience. Over time, Dedicated Education Units can help recruit and retain more nurses and improve patient outcomes.
"Creating the Designated Educational Unit has provided the USI undergraduate nursing students with an innovative approach to providing quality clinical experiences with skilled staff nurses," said Dr. Ann White, dean of the USI College of Nursing and Health Professions. "Our students gain comfort and confidence in working consistently with the staff nurses while on the unit and are given the opportunity to experience first-hand the staff nurse role and responsibilities."
A total of 32 students will participate in the DEU at St. Mary's during spring 2013.