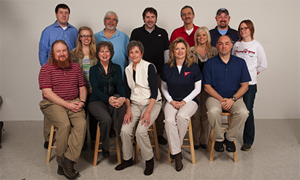 Faculty and staff who don't work with Publishing Services on a regular basis may not realize the many services that are offered through the department.
Twelve employees strong and located in the Publishing Services Building near Reflection Lake, the team is responsible for producing all of USI's marketing, design, and print materials. Through this responsibility, the team is integral in helping to manage USI's brand identity and is considered a clearinghouse for all design and print materials for the University. The management of University publications through this department is ideal as it allows the staff to ensure the graphic and editorial standards are met for our many audiences.
Also, through this centralized function, Publishing Services maintains archival information on all work produced including design, production, scheduling, and cost details. This has proven very beneficial to departments as they plan and budget for publications.
The full-service shop coordinates production from the initial concept through delivery of the finished product or publication.
The front office staff determines if jobs will be fulfilled in-house or outsourced to a local vendor, depending on volume and specialty.

Leslie Parker, director of Publishing Services, stresses the importance of contacting the department at the concept/design phase for all new projects or jobs in need of significant changes.

"We can talk about the big picture," said Parker. "Our involvement from the initial concept creation can save our partners time and money in the long run. The sooner we are involved in planning, the better the outcome."

After concept/design consultation has taken place, projects are scheduled to ensure the different stages of development are on track. The department's three professional designers and student graphic designer work closely with partners to ensure that design goals are met through a careful process of communication, proofs, and many other details as they create the projects and prepare them for production and delivery.
The production phase includes printing, bindery, and delivery. Press room staff operate a complete print shop, similar to any commercial operation. A new digital offset press and a two-color press is housed in the facility, as well as numerous pieces of state-of-the-art bindery equipment.
The department has made great strides in purchasing the new equipment necessary to meet the needs of the growing University, while considering environmental impact and reducing waste. In fact, Publishing Services was recently featured in In-plant Graphics magazine after installing the four-color digital offset press.
"We really like the waterless printing technology and the types of inks the press uses, as well as the fact that it uses thermal imaging technology to image chemistry-free plates," said Terri Bischoff, assistant director of Publishing Services. "We already had chemistry-free platemaking in place for our two-color press and did not want to introduce a press that required chemistry."
With the addition of the offset digital press just two years ago, the department gained the ability to handle the demand for four-color print jobs in-house, reducing cost, turnaround times, and improving quality.
"I have seen a real change in the types of jobs we produce," said Bischoff. "The designs are more complicated, and with four-color capability, we can do so much more in-house than we could with one- and two-color printing. And once one department realizes the value of the new in-house capability, the word gets out and others want to follow suit."
Copy Center, also a part of Publishing Services, provides on-demand digital printing through the high-speed production black and white copier and a high-quality color copier. Three Copy Center employees assist students, faculty, and staff with their copy needs, including confidential projects, variable data mail merges, and other specialty projects. Bindery capability in the print shop is utilized by Copy Center staff on their projects as well.
USI's copier fleet is a centralized program that is managed by Publishing Services. The capital investment expense is centralized in Publishing Services and departments pay only for per-click usage. Copiers are now scanners, cost-efficient printers, and some provide fax functions. Copiers campus-wide and in New Harmony comprise the fleet.
Publishing Services is equipped with large format print capabilities, producing banners, posters, and yard signs in-house. Large format finishing, such as foam core mounting, laminating, yard sign mounting/frames, banner gromments, etc., is also accomplished in-house using various equipment on-site. Projects beyond the capability of the department, such as vehicle graphics, fence banners, and such, are designed internally and then outsourced by the staff in a managed process.
In addition to designing and producing high-quality print pieces, Publishing Services is responsible for logo management for the University. Employees and off-campus vendors are encouraged to review usage guidelines and download high resolution versions of the logos at http://www.usi.edu/identity/logos to ensure the best quality and representation. Permission from the department's director or assistant director is encouraged to be certain logo usage is permissible and high-quality versions are accessible. 
Publishing Services' responsibility for the quality and integrity of all University print materials both on- and off-campus makes the department a valuable asset to USI.