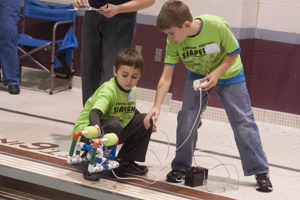 The Southwest Indiana STEM Resource Center (SwISTEM) at the University of Southern Indiana will host its third annual underwater robotics competition next month. Sixty-four teams of third- through twelfth-graders – about 230 students – will participate in the Regional SeaPerch Challenge Saturday, February 2, at the Mount Vernon Junior High School natatorium, beginning at 8 a.m.
The SeaPerch program trains educators to assist students in building underwater remote operated vehicles (ROVs). Students follow a curriculum that teaches basic engineering and science concepts to construct the ROVs using kits provided by the Naval Surface Warfare Center (NSWC) Crane Division. NSWC-Crane partners with USI on programs to advance science, technology, engineering, and mathematics education.
"It takes the textbook out of the classroom and gives students the opportunity to learn science and engineering by doing it," said Allison Grabert, director of the SwISTEM in USI's Pott College of Science, Engineering, and Education.
A $4,500 grant from the Posey County Community Foundation made it possible for the SeaPerch program to expand in Posey County schools this year. The grant funded kits and registration fees for 25 teams, as well as an instructional workshop.
Teams from more than 60 Southern Indiana schools will compete in either the stock or open division to maneuver their ROVs through several competitive drills.  Stock division teams are allowed to use only the contents of their kits, which are comprised of low-cost, easily accessible parts. Open division teams are allowed to modify their ROVs within a set of guidelines established by the national SeaPerch program.
Twenty teams will advance to the state level competition in April. From there, winners will be able to participate in the national competition in Indianapolis this May. Last year the team from Scott Elementary School in Evansville won first place in the middle school obstacle course event in Manassas, Virginia.
For more information about the regional SeaPerch program, visit www.usi.edu/stem/seaperch/main.asp.  For video footage of last year's challenge, visit http://youtu.be/1s83Mw-xfTI.