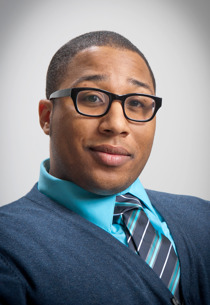 New University of Southern Indiana English faculty member Marcus Wicker will rub elbows with the likes of Denzel Washington, Alicia Keys, Halle Berry, Queen Latifah, LL Cool J, and many more celebrities at the 44th Annual NAACP Image Awards in Los Angeles on February 1. The awards show will air live at 7 p.m. CST on NBC.
Wicker, whose debut book of poetry Maybe the Saddest Thing was published by Harper Perrenial (a paperback imprint of HarperCollins Publishers) in October, is nominated for an Outstanding Literary Work-Poetry Award along with U.S. Poet Laureate Natasha Trethewey and other noted poets.
Wicker joined USI in fall 2012 as assistant professor of English. He is poetry editor of Southern Indiana Review, the University's literary magazine, and is leading the New Harmony Writers Retreat, which will launch in summer 2014.
Wicker was introduced to poetry through slam poetry performances when he was a teenager in Ann Arbor, Michigan. "I'd been writing in a journal, and I didn't know if it was poetry or not, but I saw students perform. The subject matter was similar, but they seemed so fearless. I thought, 'I have to do that. I have to try.'"
He earned his bachelor's degree at Western Michigan University in Kalamazoo and Master of Fine Arts degree from Indiana University in 2010, and then spent seven months at the Fine Arts Work Center in Provincetown, Massachusetts, where he worked on his book.
Through a Wayne State University program called InsideOut, he served for a year as Writer-in-Residence for the Detroit public schools, completing the residency in spring 2012, and taught an intensive workshop at the Martha's Vineyard Institute for Creative Writing last summer.
Wicker was featured in the December issue of Ebony magazine and is in current issues of Poets and Writers and Slate.
His book was selected by D. A. Powell for publication by Harper Perennial as one of five winners of the National Poetry Series Competition. It wasn't the first contest he entered.
After graduate school, he entered his manuscript in 18 contests. "You apply, send $25, $40, or $50 and the manuscript, and you cross your fingers," he said. In retrospect, he's glad he didn't win those contests (though he was a finalist for the Beatrice Hawley Award).
His manuscript, "heavily revised," won the National Poetry Series in a second round of submissions. "That's the prize everybody wants," he said.
At USI, Wicker teaches creative writing courses. "USI is an exciting place to work. The faculty is so young, with lots of energy – they are publishing and taking on responsibilities not in their job description. People seem to be really thriving here."
The ceremony for the NAACP's literary Image Awards will be held the night before the star-studded television broadcast, but Wicker will attend both, and there's one celebrity he's anxious to meet. "I'd like to meet Kerry Washington and ask her out," he said.
Before he heads to Los Angeles, Wicker and Dr. Annette Parks, chair of the University of Evansville History Department, will be featured in the second annual Soul Writers' Guild Authors' Book Fair and Reception from 6 to 8 p.m. Friday, January 25, at the Evansville African American Museum.