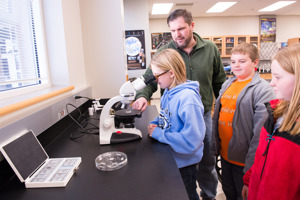 A geology professor at the University of Southern Indiana has brought the moon closer to Earth for his students. Bill Elliot, associate professor of geology and chair of the Geology and Physics Department, provided both USI students and local elementary students with a rare opportunity to work with samples of lunar rocks from Apollo missions to the moon. The samples were on loan from NASA and came from Apollo missions 12, 14, 15, 16, and 17.
Elliot recalled his own experience working with lunar samples during his time at University of Pittsburgh at Johnstown. "I hope this gets students excited and even gets some of them thinking about planetary geology," he said. "As a student, I thought it was pretty cool. It's something that's unique to geology. To have those samples from an Apollo mission and look at them with a microscope was really exciting to me as a student. I wanted some of our geology majors to experience some of that same excitement."
Elliot applied for the samples and was granted a short window of time to access the loaned rocks for research and outreach programs. He adhered to a set of strict guideline for security of the samples while they were on campus.
Using microscopes, students analyzed thin section sets in order to interpret differences in age, formation, and crust structure of the Earth versus the moon. They also discussed aspects of weathering and alteration in light of the unaltered lunar samples.
"Looking at lunar samples was a special experience," said Kristen Schmeisser, a senior geology major and Presidential Scholar at USI. "The moon rocks were some of the oldest rocks I have ever seen, the oldest being 4.2 billion years old. Unlike Earth's oldest rocks, these ancient lunar rocks are not chemically altered due to lack of water on the moon. Seeing the lunar samples allowed me to view textures that I had previously only read about."
In addition to the USI students working with the samples, two groups of elementary students from Helfrich Park STEM Academy came to campus for a program on meteorites and lunar samples. They were able to view the moon rocks through a projection system.
"Working with the local schools is something we've been doing for years," said Elliot. "They get to work with our students and faculty in geology, chemistry and biology. It's a great program."  
A collection of images of students from both USI and Helfrich STEM Academy can be seen at www.facebook.com/USIPhotoServices.