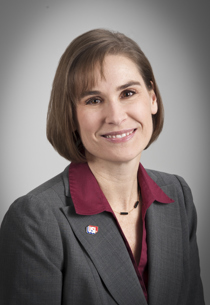 Kindra Strupp has joined the University of Southern Indiana as assistant vice president for marketing and communications. For the last 12 years, Strupp has managed communications and media relations at Eli Lilly and Company, a global pharmaceutical company headquartered in Indianapolis.
Tri-state residents may also remember her as an on-air television anchor and reporter for WTVW and WEVV under her maiden name, Kindra Antey.
Strupp joined Eli Lilly in 2000 as an executive communications-corporate communications associate. In that role, she organized top-tier media interviews for senior executives and served as a spokesperson and reputational manager for the company.
Since then, she has been in a series of high-profile U.S. and international communications positions at Eli Lilly, managing product communications for many of the company's top brands, including diabetes drugs Byetta and Bydureon, Cialis for erectile dysfunction, and Zyprexa for mental health.
As a senior communications professional for Cialis, Strupp worked alongside the marketing and agency teams that created the iconic "bathtubs" campaign and handled issues and media inquiries related to the brand. 
"Evansville is my hometown," Strupp said. "My husband and I met on the USI campus when he was a student here, so I have a long-standing affinity for the University. Now is the time to herald the high-value education, build upon our strong reputation, and further define the edge that USI gives students, faculty, and the community. I am thrilled to be part of this effort."
Strupp will direct all aspects of USI's marketing and public relations efforts and report to Cindy Brinker, vice president for Government and University Relations. She will directly supervise USI's News and Information Services, Publishing Services, and Web Services departments.
"We're excited about the appointment of Kindra as assistant vice president for marketing and communications," Brinker said. "Her background and skills in marketing, communications, and journalism fit well with the needs of the University."
Strupp holds bachelor's degrees in journalism and psychology from Indiana University.