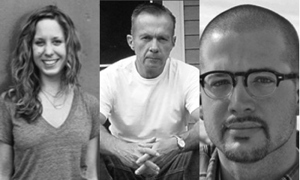 The spring 2013 RopeWalk Visiting Writers Reading Series will include free public readings by Chad Simpson, Chloe Caldwell, and Donald Ray Pollock. Each reading will begin at 5 p.m. in Traditions Lounge in University Center East and will be followed by a reception and book signing.
Chad Simpson
Thursday, February 28
Winner of the 2012 John Simmons Short Fiction Award, Simpson was raised in Monmouth, Illinois and Logansport, Indiana. His stories and essays have appeared in McSweeney's, The Sun, Esquire, Barrelhouse, American Short Fiction, and many other print and online publications. He is the author of a chapbook of short fiction, Phantoms, and the short story collection, Tell Everyone I Said Hi. A recipient of an Illinois Arts Council fellowship in prose, he is an associate professor of English at Knox College in Galesburg, Illinois, where he received the Philip Green Wright / Lombard College Prize for Distinguished Teaching in 2010.
Chloe Caldwell
Thursday, March 21
Caldwellis the author of the essay collection, Legs Get Led Astray. Her non-fiction has appeared in The Rumpus, Nylon Magazine, The Nervous Breakdown, Chronogram, The Frisky, The Sun Magazine, SMITH Magazine, Jewcy, Mr. Beller's Neighborhood, Vol 1. Brooklyn, Freerange Nonfiction, and The Faster Times. She is the founder and curator of the Hudson River Loft Reading Series and has taught creative writing workshops at Omega Teen Camp, The Hudson Opera House, and Crow Arts Manor. Caldwell splits her time living in upstate New York and Portland, Oregon.
Donald Ray Pollock
Thursday, April 8
Pollock grew up in southern Ohio and dropped out of high school at seventeen to work in a meatpacking plant. He then spent 32 years employed in a paper mill in Chillicothe, Ohio. He graduated from the Master of Fine Arts program at Ohio State University in 2009. His first book, Knockemstiff, won the 2009 PEN / Robert Bingham Fellowship. Work by Pollock has appeared in The New York Times, Third Coast, The Journal, and Sou'wester. The Devil All the Time is his first novel.
Publications by these authors are available for purchase at the USI Bookstore and Barnes and Noble Booksellers.
Presented by USI's College of Liberal Arts, the RopeWalk Visiting Writers Reading Series is made possible through the support of Southern Indiana Review, USI Society for Arts and Humanities, National Endowment for the Arts, Indiana Arts Commission, and USI Student Writers Union.