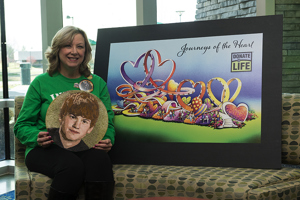 Thomas Franklin Walls was a healthy, smart, funny, athletic, and loving young man who was getting ready to start his junior year in engineering at Purdue University. It was August 2007 when 20 year-old Thomas was stabbed in the neck at a party in Evansville. He later died of his wounds but was still able to carry out a decision he made at age 16 to be an organ donor, saving six lives. The number six was also Thomas' number as a hockey player for the Evansville Thunder, where he played for 12 years. Our family has been lifted up from his senseless murder to embrace his generous spirit.
These are the words that Lee Ann Shafer, USI academic programs manager / advisor, wrote after she learned that her son, Thomas, would be recognized as one of 72 Floragraph Honorees on the Donate Life float in the 124th Rose Parade January 1 in Pasadena, California. As a result, the Indiana Organ Procurement Organization provided Shafer and her younger son, William Walls, with a five-day, all-expense paid trip to Pasadena to help decorate the float, "Journeys of the Heart," and participate in events promoting organ donation with other donor families, organ recipients, and sponsors.
Floragraphs, which are portraits of donors made of ground up flowers and spices, honor deceased organ, eye, and tissue donors nationwide. Through these memorial portraits, most of which are decorated by the honorees' families, a tribute is offered to them, their families, and donors everywhere. Seventy-two floragraphs were mounted among the large interlocking hearts that dominated the float design.
Dedicated volunteers worked days and nights leading up to the Rose Parade decorating "Journeys of the Heart" to ensure that the hundreds of flowers used would be fresh for the event and judging. Shafer and her son prepared and attached mums, while a Dedication Garden was composed of roses with notes attached from supporters. A last minute addition was placed in the corner of one of the hearts as a tribute to the victims of the recent Sandy Hook shooting in Connecticut.
On parade day, the 32 float riders aboard "Journeys of the Heart" represented millions of people touched by organ and tissue donation, including donor families, living donors, transplant recipients, and transplant candidates. Shafer could appreciate the float riders' unique stories, as she has personally corresponded with each of the six recipients of Thomas' organs. In fact, she recently was invited and attended the 65th birthday party of the woman who is alive because she received Thomas' heart more than five years ago.
Among the many compelling stories shared between Donate Life participants were those of five liver recipients who posed for a photograph showing their scars. "That just brought it home for me," said Shafer. "When I think about someone having Thomas' liver (and other organs) and the fact that they are alive today because of his decision to be a donor, it lifts my spirit."
A special part of the experience for Shafer was when the families of the Floragraph Honorees joined hands as Phil Collins' "You'll Be in My Heart" played during the float judging. Shafer says she met extraordinary people during her experience with the Donate Life Float and plans to keep in contact with many of them. "Everybody has a story," she said. "Lives have been touched."
As 170,000 people sat along the Rose Parade route and another 70,000 walked by the floats for two days following the event, "Journeys of the Heart" likely made a lasting impact on many potential donors.
More photos illustrating the decorating process and parade activities are available at https://www.facebook.com/#!/IndianaOrganProcurementOrganization.