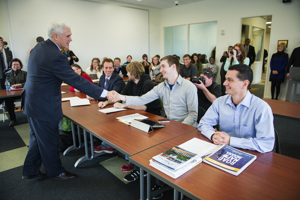 Indiana Governor Mike Pence visited the University of Southern Indiana today, meeting with USI President Linda L. M. Bennett and Cynthia Brinker, vice president for Government and University Relations, before speaking to a marketing class taught by Dr. Chad Milewicz in the Business and Engineering Center.
"I commend all of you for making a great choice for your future attending the University of Southern Indiana," Pence told students in the Personal Selling class. "I'm particularly honored to be joined here by President Bennett, who I've known for some time and greatly admire. She's one of the really dynamic leaders in higher education in this state and around the country."
The governor answered students' questions about the skills Indiana employers seek, plans to incentivize on-time graduation, and access to pre-kindergarten education for underprivileged children. Ashley Phillips, a radio/TV major and journalism minor from Chicago, asked Pence why he chose to visit USI now.
"I was anxious to get down here," the governor replied. "I had known of the reputation of USI for some time. It's a tremendous asset not just to southern Indiana, but to all of Indiana and the Midwest."
He added that Lieutenant Governor Sue Ellspermann, founding director of USI's Center for Applied Research and Economic Development (CARED), urged him to visit USI. Ellspermann served as director of CARED for six years.
"She's a tremendous leader and since the first day I met her she's been bragging about USI and asking me when I'm going to get there. And I wanted to come down and see it for myself."
Before he left the USI campus, the governor viewed the new Applied Engineering Center, scheduled to open in fall 2013. The $3.3 million facility has more than 25,000 square feet of space and $3 million in custom-made, high-tech manufacturing and engineering equipment. The equipment will give the University the opportunity to partner with local industries to experiment with designing new production lines.
While in the area, Pence also visited Vuteq, a Toyota parts supplier in Gibson County, and attended a meeting of the Evansville Downtown Kiwanis Club.
USI is the first state university Pence has visited as governor.
Additional images from the Governor's visit are available online.