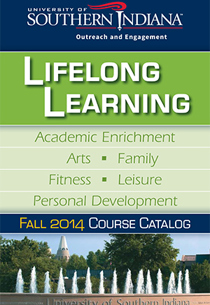 USI's Continuing and Professional Education in Outreach and Engagement has released a new series of noncredit courses designed to provide opportunities for personal growth and development. More than 100 offerings in the categories of arts and leisure, college readiness, computers, fitness and recreation, languages, professional development and youth programs are available.
Holiday Block Printing, Serenity Horsemanship and Intro to Buddhism are among the arts and leisure offerings and courses in the fitness and recreation category include Sailing School, Beginning Golf and Yoga for Back Pain Relief.
High school students can develop strategies and identify study priorities for the SAT by registering for Verbal Skills for the SAT and Math Skills for the SAT. The courses focus on the SAT but are beneficial to any student preparing to take a standardized exam. Additional youth programs include Saturday Art Workshop, Introduction to Personal Finance for High School Students, Building Reading Skills, Preschool Swimming and Swimming for Boys and Girls.
Courses in USI's Certificate in Business Computer Competency - Level I include Windows Level I, Internet Navigation Level I, Excel 2010 Level I and more. Level I business computer course are ideal for participants who are beginning computer users and would like to learn the basic functions of the computer.
Language courses include include Beginning Conversational German, Beginning Conversational Spanish, Beginning Conversational French and Beginning Conversational Russian.
Grateful Leadership, USI Certificate in Project Management, SHRM Learning System For PHR/SPHR Certification, Managing a Multi-Generational Workforce, DDI Resolving Workplace Conflict and Simplex Creative Problem Solving Method are among the many offerings in the business and professional development category.
Noncredit courses are open to anyone regardless of educational background. All courses are presented in a noncompetitive and informal atmosphere where interest in learning is the primary consideration. No grades are assigned and formal admission to the University is not required for course registration.
Many noncredit courses are available for Continuing Education Units (CEUs). Continuing education hours for specific professions, including nursing, accountancy, social work, psychology and more are offered when appropriate and are noted in course descriptions. Online noncredit courses also are available.
USI alumni receive a 10 percent discount on most courses.
A complete schedule of fall noncredit courses can be found here.
To receive monthly emails on USI continuing and professional education opportunities, email Brandi Schwartz, marketing coordinator in Outreach and Engagement, at blschwartz@usi.edu or use the online registration form.
For more information, or to register for a course, call 812-464-1989 or 800-467-8600.