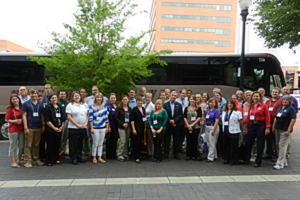 Faculty and staff members from the University of Southern Indiana, Ivy Tech Community College, Vincennes University and the University of Evansville will meet on Thursday, August 14 for the 10th Annual Day on the Bus event. Sponsored by Old National Bank and organized by USI's Center for Applied Research and Economic Development (CARED), the event provides educators with an insider's view of regional businesses. Participants learn about the local economic environment, opportunities for collaboration, and how they can prepare students for careers in the region.
The day will begin at 8 a.m. at Old National Bank in downtown Evansville, where Jonathan Weinzapfel, chancellor of Ivy Tech Southwest, will deliver opening remarks. From there, participants will travel to Metronet and Toyota Motor Manufacturing Indiana. These local businesses selected for this year's event because they use technology and innovation to benefit the community.
Day on the Bus participants end their day by traveling back to Old National Bank for a presentation, debriefing and closing comments.
To learn more about Day on the Bus, contact CARED at 812-461-5442 or appliedresearch@usi.edu.