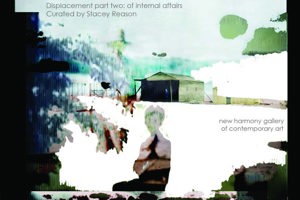 The University of Southern Indiana's New Harmony Gallery of Contemporary Art will host Displacement part two: Of Internal Affairs, an exhibition curated by Stacey Reason, through Friday, May 30, when a closing reception will be held from 5 to 7 p.m. The exhibition and reception are free and open to the public.
The exhibition is a collaboration between the University of Louisville's Hite Institute, Spaulding University's Huff Gallery, and the New Harmony Gallery. The exhibition is Reason's thesis project for the Hite Institute's combined M.A./M.P.A of Curatorial Studies and Nonprofit Management with components at both the Huff Gallery and the New Harmony Gallery.
Reason utilizes the concept of displacement as unifying context for the selected works and spaces represented in this project. Works in the exhibition represent a wide range of materials and methodologies realized by diverse spectrum of artists. Ranging from student to professional art, the selection includes a good sample of Midwestern artists, but also draws work from as far away as Russia. 
"The artists represented in this exhibition explore – and on occasion create – the condition of displacement using traditional fine art mediums as well as progressive, experimental, and unexpected materials and presentations," Reason said. "The work featured includes an interactive sculpture, a crowd-sourced photography project, digitally and manually layered images, complex geometric shapes in paintings and projections, sound installations, collected samplings both real and fictitious and observations of place and hypothetical spaces."
Displacement part one: A Reckoning was at the Huff Gallery in Louisville, Kentucky, through April 13. Reason notes that the movement of the show from one venue to the next reinforces the conceptual framework and becomes an active element of the project.
"The exhibition itself is subjected to displacement, as it occurs in two places, breaking the confines of the traditional gallery paradigm," Reason said. "The two places – Louisville, Kentucky, and New Harmony, Indiana – are diametrically dissimilar in characteristics and force a consideration of the affects a place can have on an experience, such as viewing an exhibition."
Reason holds a Bachelor of Fine Arts degree in drawing from Murray State University, and has lived and worked in Louisville since 2011. She is currently pursuing a Master of Arts in Curatorial Studies and Masters of Public Administration in Non-Profit Management. She works at Spalding University as a gallery assistant, and has taught university courses in studio art in addition to having played an instrumental role in the development of the artists group called the Louisville Artists Syndicate.
The New Harmony Gallery of Contemporary Art is an outreach partner of the University of Southern Indiana. The gallery is located at 506 Main Street in New Harmony, Indiana. Regular hours are 10 a.m. to 5 p.m. Tuesday through Saturday and noon to 4 p.m. Sunday. For more information, call 812-682-3156 or go to www.usi.edu/nhgallery.