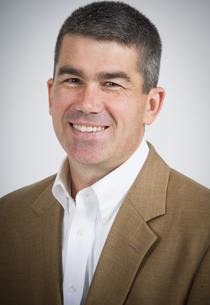 Dr. Jeff Thomas, professor of education, is the recipient of the University of Southern Indiana's 2014 Sydney L. and Sadelle Berger Faculty Community Service Award. Established in 1996 by Charles L. and Leslie Berger in honor of his parents, Sydney L. and Sadelle Berger, the award recognizes significant community service. The Berger Award recipient is selected by the USI Faculty Awards for Service Teaching and Research committee and was announced during the Honors Program for the Pott College of Science, Engineering, and Education this month.
Thomas holds a doctorate in science education and a master's degree in geography from the University of Southern Mississippi, as well as a master's degree in biological science from Southwestern Oklahoma State University.
He began teaching at the University of Southern Indiana in 2000 and also has served as acting chair for the Department of Teacher Education, as a member of the faculty senate, as a member of the University Core Curriculum Council, and as the University Academic Coordinator for the Living Learning Communities program. He also serves as the national research director for the Council for Elementary Science International Association and on the National Science Teachers Association Committee on Research in Science Education.
Through numerous published articles, presentations, workshops, and grants, Thomas has collaborated and spearheaded projects to further education in elementary, secondary, and college-level classrooms. "Dr. Thomas is an excellent ambassador for great teaching," said Dr. Bonnie Beach, interim chair of Teacher Education Department. "Many of his service activities involve modeling for teachers how one teaches so that students learn by doing."
Teaming with Dr. Joyce Gulley, associate professor of education, the pair completed the 2014 Indiana Science Trade book Annual Reading List. The list utilizes children's literature as a learning tool to teach science following nine criteria to meet Indiana science standards.
Through a partnership with USI's Multicultural Center he has brought University international students into fourth-grade classrooms to share their experiences as 10-year olds in their home country, and enable a feeling of commonality that reaches beyond cultural differences.
Along with Andy Black, production coordinator in Information Technology and Dave LeRoy, distance learning producer/director in Information Technology, he developed online modules for state and regional elementary and middle school students, illustrating science concepts behind the work of engineers at the Naval Surface Warfare Center, Crane Division.
His work also includes Project Connect director, Hoosier Science Teacher content area consultant, College Mentors to Kids presenter, Tri-state Regional Science and Engineering Fair judge, as well as sitting on the STEM Leadership Council, and West Terrace Elementary Committee.