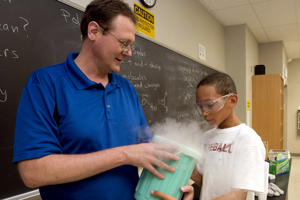 USI's Center for Education Services and Partnerships will offer two, one-week Super Summer sessions for children ages Pre-K4 through 14. Morning classes from 9 a.m. to 11:30 a.m. and afternoon classes from 12:30 to 3 p.m. will be available. Operating every summer since the early '80s, Super Summer has provided a variety of enrichment opportunities to hundreds of children.
Session one will take place June 9-13 at the University of Southern Indiana. The second session will take place July 14-18 at Hebron Elementary, located at 4400 Bellemeade Avenue in Evansville. Classes will include chess, recycling, graphic design, balsa wood bridge building, art, robotics, cooking, Spanish, and more.
In celebration of New Harmony's bicentennial, a special day-long, multi-disciplinary course will be held during session one from 9 a.m. to 3 p.m. A limited number of students entering grades 6 through 9 will spend three full days in New Harmony and two days on USI's campus, engaging in activities focused on entomology, architecture, art, geology, archaeology, pottery, and more. Transportation will be provided and students should bring a non-perishable lunch, water bottle, hat, and sunscreen.
Registration is $85 for each course or $80 per course when registering the same child in more than one class, or when registering two or more children at the same time. The New Harmony track is $180 and includes transportation from USI to New Harmony. Evansville Vanderburgh School Corporation students, who are eligible for the free and reduced lunch program, may enroll in a single course for a reduced fee of $10. Reduced-fee enrollments are limited and do not apply to the New Harmony track.
Free lunchtime supervision will be available for those enrolling in both morning and afternoon classes. Children enrolled all day and staying for lunch must be five years or older and should bring their own non-perishable lunches and drinks.
For more information, including a complete Super Summer schedule and registration information, visit USI.edu/supersummer, or call USI's Outreach and Engagement at 812-464-1989 or 800-467-8600.
Watch a video with images from last year's Super Summer program.