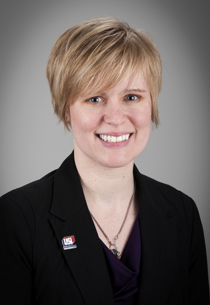 Sarah Harlan '10 has accepted the position of assistant director of Alumni and Volunteer Services at the University of Southern Indiana. In this role she will work with Janet Johnson, director of Alumni and Volunteer Services, in managing operations of the office of Alumni and Volunteer Services and developing opportunities for alumni, parents, students, and volunteers to remain connected and involved with USI.
She will recruit, train, and manage USI Volunteers, coordinate volunteer programs, manage the USI Parents and Families Association, and manage the USI Student Alumni Association.
Harlan, an Evansville native, joins Alumni and Volunteer Services after 2.5 years with the USI Foundation serving as publications and events coordinator. Prior to that, she served as administrative associate in USI's News and Information office.
She holds a bachelor's degree in radio and television from USI and will graduate with her master's degree in communication from the University this fall.