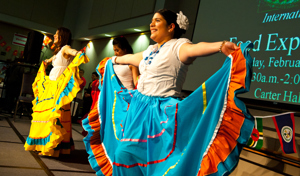 The International Food Expo, which allows USI's international students to share a bit of home with the USI community, will be held from 10:30 a.m. to 2 p.m. Friday, February 21, in Carter Hall in the University Center.
The signature event of the USI International Club, the International Food Expo will feature the cuisines of 25 countries, prepared by the students themselves with help from staff in Food Services.
Students will wear and display traditional clothing, entertainment, and crafts. The public is encouraged to contribute to this colorful event by wearing traditional clothing or costumes from their own cultures. 
Tickets, $10 in advance and $12 at the door, may be purchased at the International Office (UCE 1235). For more information, call 812-465-1248. 
The International Food Expo concludes International Week, sponsored by International Programs and Services. Other events include a photo contest for study abroad students and a "Where in the World is Archibald Eagle" contest Monday through Friday. For more information on rules and prizes, go to the USI Study Abroad page on Facebook or follow on Twitter @USIStudyAbroad.