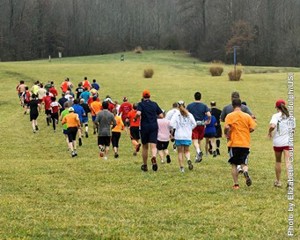 The 36th annual Snowflake Derby is Saturday at 9 a.m. (CST) on the campus of the University of Southern Indiana and features two races this year. Race day entry fees are $25 for one race and $30 for both races. Race-day registration and packet pickup will run from 7:30 a.m. to 9:45 a.m. at the Physical Activities Center (PAC).
The first 150 registered runners will receive a Snowflake Derby hat on race day. Caps will be distributed on a first come, first serve basis. All participants will receive free admission to the USI-Drury basketball games—the women play at 1 p.m. and the men play at 3:15 p.m.
This year's 8k course will be run entirely off road and consists of dirt, grass, and crushed stone trails. Challenges include hills, hay bales, log jumps, creek crossings, and whatever else Mother Nature has in store.
The 4k race features a fast, scenic paved course utilizing the Burdette Park-USI Trail. The 4k race begins at 9 a.m. and the 8k race is at 10 a.m.
Awards go to the top three finishers overall, plus the top two male and female finishers in the following age groups: 15–under, 16-19, 20-24, 25-29, 30-34, 35-39, 40-44, 45-49, 50-54, 55-59, 60-64, 65-69, 70-over.
Proceeds from the event benefit the USI cross country and track & field programs. For more information, contact USI Head Cross Country/Track and Field Coach Mike Hillyard at (812) 465-1232 or by email at mhillyar@usi.edu.