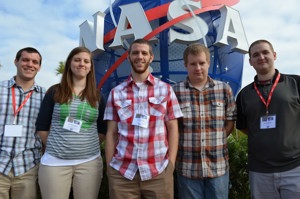 Members of the University of Southern Indiana's award-winning student spectrometer team had VIP seats at the November 18 launch of the MAVEN spacecraft from the Cape Canaveral Air Force Station in Florida. The spacecraft, launched on an Atlas V rocket, will study the upper atmosphere of Mars.
Students viewed the launch from a causeway at the Kennedy Space Center. The three-day all-expenses-paid trip to view the launch was part of their award for winning Best Presentation of Results in the 2013 National Student Solar Spectrograph Competition at Montana State University in May. The award, sponsored by the Montana Space Grant Consortium through the National Aeronautics and Space Administration's (NASA) National Space College and Fellowship Program, also included a $12,000 cash prize.
While in Florida, the students also toured the Kennedy Space Center Visitor Complex with its newly opened exhibit of the Space Shuttle Atlantis.  They received a VIP tour of the Vehicle Assembly Building, the Launch Control Center, and Launch Complex 39a, the site of most of the Apollo launchings to the moon and most of the space shuttle launchings. They also had a chance to hear from NASA engineers about past and future NASA projects.
"On this trip the USI students got a glimpse of the past, present, and future of our nation's space program and had a once-in-a-lifetime chance to see a spacecraft rocket to Mars," said Dr. Glen Kissel, associate professor of engineering and faculty adviser to the spectrometer team, who attended the launch with students.
Spectrometer team members who attended the launch were Aaron Williams, a senior engineering major from Washington; Jesse Rhodes, a senior engineering major from Evansville; Danielle Eckert, a senior engineering major from Jeffersonville; Tanner Hayes, a senior engineering major from Evansville; and David Bruce, a sophomore engineering major from Oakland City. All seven members of the spectrometer team are from Indiana.
Spectrometer team members Eric McCord, a sophomore engineering major from Velpen, and Luke Maurer, who graduated in the spring with a Bachelor of Science degree in biochemistry, from Evansville, were unable to attend the launch.