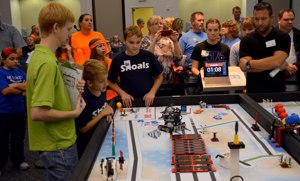 The University of Southern Indiana's Southwest Indiana STEM (SwiSTEM) Resource Center will host the 2013 USI FIRST® LEGO® League Qualifying Tournament on Saturday, November 9, in University Center East at USI. USI hosted the first-ever qualifying tournament for southwest Indiana in 2011.
More than 90 students from area elementary and middle schools will compete. Teams will be judged on a community project, robot design, and FIRST® LEGO® League core values beginning at 9 a.m. Teams will then compete head-to-head in a robot game at noon in Carter Hall in the University Center. 
FIRST® LEGO® League is a robotics program designed to get children excited about science and technology while teaching them valuable employment and life skills. Teams, composed of up to 10 children with at least one adult coach, can also be associated with a pre-existing club or organization, be homeschooled, or just be a group of friends.
Teams program an autonomous robot using the LEGO Mindstorms robot set to score points on a thematic playing surface (rather than a three-dimensional obstacle course) and create an innovative solution to a problem as part of their research project.
More than 40 volunteers from USI departments including Engineering, Education, Physics, Division of Outreach and Engagement, Alumni and Volunteer Services, and the American Society of Mechanical Engineers (ASME) Student Chapter, as well as community partners will assist with the event.
For more information contact Allison Grabert, SwiSTEM Resource Center director, at afgrabert@usi.edu or 812/228-5019