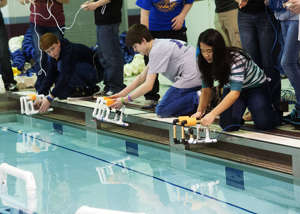 The Southwest Indiana STEM Resource Center in the University of Southern Indiana's Pott College of Science, Engineering, and Education is offering a SeaPerch Sponsorship Program for 25 Southwestern Indiana schools and organizations interested in participating in SeaPerch next year.
The SeaPerch program trains educators to assist fifth through twelfth grade students in building underwater remote operated vehicles (ROVs). Students follow a curriculum that teaches basic engineering and science concepts to construct the ROVs using kits provided by the Naval Surface Warfare Center (NSWC) Crane Division. NSWC-Crane partners with USI on programs to advance science, technology, engineering, and mathematics education.
The SeaPerch Sponsorship Program will provide awardees with one SeaPerch kit, sponsorship to attend the Introduction to SeaPerch Workshop on October 26, and a waiver of the registration fee for the USI State SeaPerch Challenge on February 8, 2014.
Applications for sponsorship are due by September 30, with award notification on October 4. Apply online by visiting http://www.usi.edu/science/southwest-indiana-stem/student-outreach/seaperch-challenge/usi-seaperch-challenge and clicking on USI SeaPerch Sponsorship.