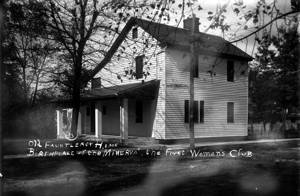 Come join Historic New Harmony, Architectural Renovators, and Events of Harmony for ice cream and music at the reopening of New Harmony's Fauntleroy Home from 1 to 4 p.m. Saturday, October 5.
Known as the "Birthplace of the Minerva Society," the Fauntleroy Home is opening its doors for the first time in 6 years.

"The house has undergone extensive restoration," explains New Harmony State Historic Site Manager Amanda Bryden, "and now it more closely reflects the 1859 time period than it did 100 years ago."

In 1859, a women's club called the Minerva Society was conceived in the Fauntleroy Home. This organization's intent was to cultivate the minds of young, well-educated women. Original poetry, essays and short stories were shared among the members. Lively debates about topics such as war, women's roles in society and slavery were also discussed at these meetings.
"The restoration involved rebuilding the 19th century-era kitchen, jacking up the house to repair the foundation, siding repairs, painting of the interior and exterior in the colors revealed by the paint analysis, repairing the chimney and fireplaces and replacing the 20th century windows," added Bryden. "The Fauntleroy Home has been a historic house museum for about 100 years and this is the first major renovation it has gone through."
Admission to the event is free.
The Indiana State Museum and Historic Sites financed the restoration.
Historic New Harmony is a unified program of the University of Southern Indiana and the Indiana State Museum and Historic Sites. For more information on the Fauntleroy Home, please visit www.usi.edu/hnh/fauntleroy.php.
The Fauntleroy Home is located 411 West Street in New Harmony, Indiana.