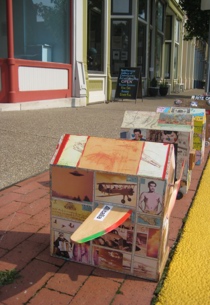 A reception for Retrospective, an exhibition by Bill Whorrall, will be held from 4 to 7 p.m. Saturday, August 24, at the New Harmony Gallery of Contemporary Art. The reception will be held in conjunction the New Harmony Summer Art and Antique Stroll and is free and open to the public.
Retrospective will feature a rich variety of work representing the career of a prolific artist who embraces experimentation in media and subject. Monotypes, paintings, clay, paper, and other mixed media work in both two dimensional and three dimensional formats will be included in the exhibition. In addition, Whorrall will have copies of his books available in the gift shop.
"Perhaps most exciting for the gallery, Whorrall has generously donated his house forms to help support our programing, outreach, and community building efforts," said Garry Holstein, director of the gallery. "The entire collection of 40-plus houses will be on display for one night only during the stroll. Do not miss the opportunity to see this impressive collection and show your support for the gallery."
Whorrall teaches art at Precious Blood School in Jasper, Indiana. He lives in rural Martin County, Indiana and has written two books on Southern Indiana, one on Amish life in Daviess County, and four on Martin County.
Whorrall has been creating art professionally since 1966. He has a bachelor's degree in art education, a master's degree in secondary education and a Master of Fine Arts degree in print making, all from Indiana University. He has exhibited and taught in Australia, New Zealand, and Italy.
For more information about Whorrall, visit http://www.billwhorrall.com.
The New Harmony Gallery of Contemporary Art is a regional outreach program of the University of Southern Indiana. The cornerstone of the gallery's mission is education and access through a carefully planned exhibition series that is intended to provide increased opportunity for students and the public to engage in discourse on and about the arts and culture.
The gallery is located at 506 Main Street in New Harmony, Indiana. Regular hours are 10 a.m. to 5 p.m. Tuesday through Saturday. For more information, call 812/682-3156 or go to www.usi.edu/nhgallery.