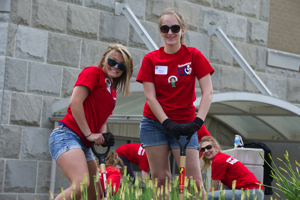 When Volunteer USI kicked off National Volunteer Week with its Spruce Up program, more than 50 percent of the participants were USI students. The annual event combines the efforts of students, alumni, employees, and community members to clean up campus landscaping and outdoor areas that keep the University looking beautiful. More than 60 students attended this year, an increase from just 20 in 2012.
Sherri Miller, assistant director of Alumni and Volunteer Services, says volunteering enables students to network and explore while giving of their time and talent. "Over the past two years, we've seen consistent growth in the number of USI students taking part in volunteer opportunities," she said. "They seem to realize that not only does volunteerism help our local and USI communities, but also provides a wonderful forum to gain insight and experience tied to future career paths."
Carynn Koch, a USI sophomore biology/pre-med major, volunteers through the Pre-Professional Health Club and is president-elect of the Student Ambassador Organization (SAO). Her work with the Pre-Professional Health Club involves planning educational opportunities for medically-minded students, giving lab demonstrations to grade-school children, and hosting a health conference for high-school students. SAO's 60 student volunteers give tours to prospective students and make positive first impressions on those visiting campus.

"No matter what the area of interest, volunteering is a fabulous way to meet people in the USI community, and to feel like you are making a difference on campus and in the community," said Koch. "People in Evansville, including our faculty and fellow students, can't help but be impressed when they see students out in the community, going above and beyond what is expected of an average college student. Even one hour of volunteering can help someone and provide a new perspective." 
USI senior Nicole Smith is president of the Student Alumni Association and a volunteer for Beta Alpha Psi, Boys and Girls Club of Evansville, Easter Seals Telethon, Mesker Park Zoo and Botanic Garden, Tri State Food Bank, and many campus events. "As students, we tend to get caught up in our lives and classes and sometimes forget about the world around us," she said. "Typically, college students don't have a lot of money, but we can give time. You create a connection to the community, help those who need it, and get the chance to meet people that you may not otherwise meet." 
Chelsea Procter, Gamma Phi Beta's vice president of public relations and services, realizes the importance of supporting the philanthropic events of the Greek community. Her main focus is Building Strong Girls, a movement that envisions a community where every girl and woman has the skills to succeed in life. "We are getting together for a good cause, and supporting each other's volunteer efforts to build Greek unity in our community," she said.
Volunteer USI will recognize student volunteer efforts with a Student Volunteer of the Year Award at the annual Volunteer Recognition Dinner in August. Students in good academic standing who have performed outstanding volunteer service to USI and/or the community through the Volunteer USI program may be nominated.
Volunteer USI partners with more than 150 organizations to provide volunteers who care about all aspects of education. Participants can be connected with organizations that offer countless volunteer opportunities including assisting elementary students, working on special projects and community events, and supporting tourism, theatre, or business and community development programs. The program is not limited to student volunteers. Faculty, staff, alumni, and community members also are welcome to participate in Volunteer USI.
For more information about Volunteer USI or Spruce Up, contact Miller at samiller3@usi.edu or 812/465-1215.