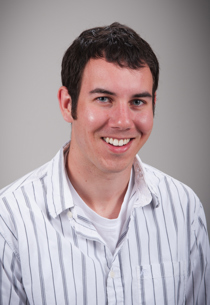 As a University of Southern Indiana student, Chanse Ford has discovered a love for geology, traveled to India, and will work near the shores of Lake Michigan and in Yellowstone National Park this summer.
Ford, a senior geology major and honors student from Manila, Indiana, is the recipient of the 2013 Trustees Distinguished Merit Award, presented at the Pott College of Science, Engineering, and Education Honors Convocation on April 8. The award recognizes outstanding achievement not only in the student's major but also in the liberal arts and sciences that form the core curriculum. Each college nominates one student for the honor, which includes a $1,500 award.
Brian Steinkamp, instructor in physics, said Ford is "remarkable" in that he excels in both mathematics-based science courses and the liberal arts. "Based on my experience, it is very rare that someone has the ability that Chanse has to excel in physics. It is, however, exceedingly rare that such a student would also be gifted in subjects related to the arts as well."
As a senior at Rushville High School, Ford was editor-in-chief of the school newspaper; He majored in journalism and political science during his first two years at USI. His interest in geology emerged after he took Geology of America's National Parks, an introductory course, with Dr. Paul Doss, associate professor of geology. Still preoccupied with the subject a semester later, he decided to change his major.
"I like being outside, and even introductory level courses are very hands-on," he said. "You take field trips overnight and go camping. It's not like lecture courses or lab. It's much more immersive."
He was also inspired by the Geology faculty's passion for their work. "All the professors in our Geology Department love the science and they love teaching and conveying that knowledge."
Later, he served as a Supplemental Instruction Leader for students in the course that inspired him to become a geology major. "I would go to the lectures, help students with homework and labs, and look at certain topics in more detail." The service is provided through Academic Skills.
This summer, Ford will assist Doss in research directed at understanding the role that groundwater plays in sustaining ecologically critical surface water flows for important trout and salmon habitat in Michigan's Manistee National Forest. They will spend more than a month in the field, quantifying groundwater discharge to the White River, a designated Michigan State Natural River, and candidate Federal Wild and Scenic River. The work is part of a larger, sustained effort to help natural resource managers on Federal National Forest lands.
"Chanse is precisely the type of student that I look for to work with in my research endeavors," Doss said. "He has a genuine thirst for knowledge, and the enthusiasm to support his efforts. Perhaps more importantly, Chanse wants to apply the knowledge he gains from the classroom to real-world scientific problems. We have developed a true collaborative effort as part of my research program."
Then Ford will travel to Yellowstone National Park with an upper level class Doss teaches only for geology majors.
After he completes his bachelor's degree, Ford plans to go to graduate school and study hydrogeology, which is also Doss's specialization. "There is a lot of opportunity in hydrogeology," Ford said. "Water will become an issue in the future, and I want to be able to help in whatever way I can."
He became more aware of water issues while he was in India in summer 2011. He and two other USI students participated in the University's first Global Engagement Initiative, spending two weeks with the Society for Development Studies in Alwar, India.
"India definitely influenced me when it comes to the water issue. Over there, it's even more of an issue. I realized out in the middle of rural India that what I was going to be studying could be applied globally."
Because he spent his first two years at USI pursuing a different program, Ford will require an extra year to complete his degree. "I would not trade the path that I followed to get where I am today," he said. "Without those initial two years of exploring political science and journalism, I would not have realized my passion for geology."
Ford is the son of Colleen and Dave Wolford of Manila. "As a freshman, scholarships brought me to USI," he said. "To receive this scholarship as a senior eases my mind as I go into my final year here."
If you are interested in supporting scholarships, visit http://www.usi.edu/giving/ways-to-give.