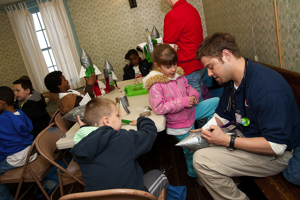 Three community efforts in which the University of Southern Indiana has taken a leading role are nominees for Leadership Evansville's 2013 Celebration of Leadership event, to be held at 5:30 p.m. Tuesday, March 19, in The Centre Ballroom.
Celebration of Leadership recognizes individuals, organizations, projects, and businesses who make significant contributions to the community.
Community Read: "War and Our Communities"
Community Read: "War and Our Communities" was nominated in the Neighborhood/Community category of the Project division. Community Read is a public program to promote reading, reflecting, and community action on issues affecting the Tri-state area. "War and Our Communities," the topic for 2012, focused on readjustment issues that veterans and their families face after war. The program centered around reading and discussion of Tim O'Brien's The Things They Carried, with related educational events throughout the month of April.
Dr. Anne Statham, professor of sociology and director of the Service Learning Program at USI, and Dr. Michael Kearns, professor of English, coordinated the project, working with the Evansville Vanderburgh Public Library system, Ivy Tech, WNIN, and the U.S. Department of Veteran Affairs, among other community organizations.
Helen Azarian, circulation services supervisor for the library, nominated the project. "USI was at the forefront in reaching out to the community to make the project happen and deserves recognition for creating a dialogue about the timeless topic of honoring our military veterans, as well as assisting them as needed when they return home," she said.
Tri-State World Trade Network: "Preparing Students for Global Work"
Tri-State World Trade Network: "Preparing Students for Global Work" was nominated in the Education category of the Business/Organization division. Tri-State World Trade Network is a non-profit organization supported by The Chamber of Commerce of Southwest Indiana which promotes interest in the development of international trade in the Tri-State. "Preparing Students for Global Work", held at USI last fall, included a presentation by Wayne Quigley, formerly of Bristol-Myers Squibb and Mead Johnson Nutrition's international operations, and global internship information sessions with Berry Plastics, Toyota, Skanska, Red Spot Paint, SABIC, and Mead Johnson.
Dr. Peter Cashel-Cordo, professor of economics, facilitated the event as liaison between USI and Tri-State World Trade Network. USI, the University of Evansville, and The Chamber collaboratively sponsor the program.
Camp Nota-Gona-Wheeze
Camp Nota-Gona-Wheeze, a free week-long day camp for children with asthma, was nominated in the Health/Social Service category of the Project division. The camp takes place each year during spring break. Through camp activities, children learn about how to manage their asthma and medications and cope with feelings of being different from their peers.
Now in its eighth year, the camp is staffed by students and faculty of USI's College of Nursing and Health Professions, as well as employees of St. Mary's Hospital, the Evansville Vanderburgh School Corporation, and the Vanderburgh County Department of Health. Julie St. Clair, USI instructor of nursing, is the education coordinator for the program. Students in her classes plan each day's activities and serve as camp counselors.
For reservation information for Celebration of Leadership, visit Leadership Evansville's website. The cost to attend is $15 for adults and $5 for students. There will be a reception immediately following the ceremony at the Arts Council of Southwestern Indiana Gallery at Innovation Pointe. Reservations may be made online, by phone at 812/425-3828, or by e-mail to julie@leadershipevansville.org.