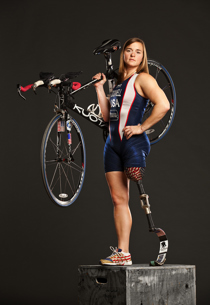 The University of Southern Indiana will host Melissa Stockwell, U.S. Army veteran and paratriathlete, in support of Disability Awareness Week.
Stockwell will speak about her experience in the military and her journey from wounded warrior to Paralymic athlete in "From Baghdad to Beijing and Beyond" at 6:30 p.m., Thursday, March 21, in Forum II. The presentation is sponsored by the Department of Kinesiology and Sport and the Counseling Center and hosted by the Sport Management Club.
Stockwell deployed with the 1st Cavalry Division to Baghdad, Iraq in 2004, after being commissioned as a Second Lieutenant in the U.S. Army as part of the Transportation Corps. While on a routine convoy, her HUMVEE was hit by a roadside bomb, resulting in the amputation of her left leg above the knee. She was the first female to lose a limb in active combat. Stockwell was medically retired and received a Purple Heart and a Bronze Star for her service.
In 2008, Stockwell became the first Iraqi War veteran to qualify for the Paralympics, representing the United States on the swim team in Beijing. Since then, she earned a spot on the Paratriathlon national team and is currently the three-time World Champion, with hopes to compete in the 2016 Paralympics. She and three other veteran Paralympic athletes are the subject of the documentary From Baghdad to Beijing, which chronicles their journey from Baghdad to the Paralympics.
Stockwell's story is about the power of athletics in overcoming her struggle and empowering her to make a difference. "You shouldn't focus on the disability but on the ability instead," she said.
Stockwell serves on the board of directors of the Wounded Warrior Project and is a certified prosthetist at Scheck and Siress Prosthetics in Chicago, where she fits amputees for artificial limbs. She also is a level 1 certified triathlon coach and is a co-founder and coach of the dare2tri Paratriathlon club in the Chicago area.
On Friday, March 22, Stockwell will also participate in a spin class at 8 a.m. at the Recreation, Fitness, and Wellness Center and visit the Evansville Veterans Affairs Health Care Center at 10:30 a.m. For more information, contact Dr. Glenna Bower, associate professor and chair of the Department of Kinesiology and Sport, by e-mail at gbower@usi.edu or by phone at 812/465-1265.
Disability Awareness Week
In recognition of Disability Awareness Month, the Counseling Center, Disabled Student Services, and the USI ADA Coordinator have joined with various campus partners to offer a series of programming to help increase understanding about the lives and experiences of individuals with disabilities, challenge misconceptions about what it means to be disabled, and cultivate appreciation for ability status as an important aspect of multiculturalism.
Activities for Disability Awareness Week will include a screening of clips from the documentary Murderball, which follows several rugby players with paraplegia as they compete toward the 2004 Paralympics. The screening, to take place at 6 p.m., Tuesday, March 18, in Ruston Hall, will be followed by a discussion of the film co-facilitated by community member Ian Perge, an athlete with a disability whose experiences include coaching wheelchair basketball and participation in the New York State Games for the Physically Challenged.
A panel discussion called "How Much Do You Really Know about Disabilities?" will take place at 3 p.m. Tuesday, March 19, in University Center East Room 2207. Members of the student panel will discuss their experiences as individuals with disabilities, challenging myths about disability.
Doug Goeppner, USI ADA coordinator, will give an interactive presentation called "A Photographic Journey through an Inaccessible World!" at 3 p.m., Wednesday, March 20, in the same location. Participants will learn how the physical world is often experienced by persons with disabilities through a photographic journey that provides the opportunity to identify common examples of inaccessibility in real-world settings.
For more information on Disability Awareness Week, contact Dr. Stephanie Cunningham, outreach coordinator at the Counseling Center, by e-mail at scunningha@usi.edu or by phone at 812/464-1867.