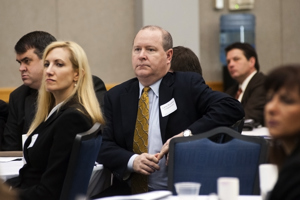 U.S. Congressman Larry Bucshon was among state and regional leaders attending the EVV-Crane I-69 Innovation Corridor Consortium meeting at the University of Southern Indiana today.
Led by USI's Division of Outreach and Engagement, the consortium is made up of southwest Indiana leaders in government, business, healthcare, education, and economic development, with a goal of capitalizing on the construction of Interstate 69 from Evansville to the Naval Surface Warfare Center Crane Division (NSWC Crane) as a corridor of innovation, entrepreneurship, and creativity in the region.
At a kick-off meeting held in November, it was revealed that the I-69 Corridor region has experienced below-average growth in key indicators of economic success over the last 30 years.
"I've talked with President Bennett many times about the brain drain and skills gap in the area," Bucshon said. "It's very appropriate that USI is involved in this effort. University participation is critical."
At today's meeting, task forces were formed and chairs selected around strategic priorities. They are: Jim Heck of Grow Southwest Indiana Workforce (Brainpower); Debbie Dewey and Dan Arens of the Growth Alliance for Greater Evansville (Innovation and Entrepreneurship Networks); Mark Sebree of Vectren (Quality, Connected Places), Tonya Brothers-Bridge, chief of staff for Lieutenant Governor Sue Ellspermann (Branding Experiences), and former Lieutenant Governor Becky Skillman of Radius Indiana and Greg Wathen of the Economic Development Coalition of Southwest Indiana (Civic Collaboration).
For more information, call USI Outreach and Engagement at 812/464-1829.