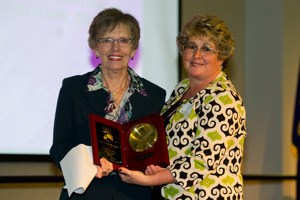 Dr. Jane Davis-Brezette had no experience as a student-athlete or a coach when she agreed to lead the Indiana State University at Evansville (ISUE) women's tennis team back in 1980. Despite that, after five seasons as head coach, her teams clinched three-straight GLVC titles and boasted one undefeated conference season.  
"Like many great coaches, she had the ability to bring together a group of young women from all walks of life and form a team," said Jennifer McAtee, former women's tennis player at ISUE.
Davis-Brezette, associate professor emerita of physical education, was honored as a member of the 2013 USI Athletic Hall of Fame class last Friday evening in Carter Hall.
Inductees are selected by a nine-member USI Athletic Hall of Fame Committee who evaluate nominations submitted by Screaming Eagles fans. Student-athletes or teams on the 10th anniversary of their last season of competition, or a coach/administrator who has been separated from the Athletic Department for two years, are eligible.
"It's humbling and overwhelming to think that any person or committee feels your body of work deserves that level of recognition," said Davis-Brezette.
Although Davis-Brezette will admit that she didn't put a lot of stock in the statistics, she compiled an overall record of 46-28 over five seasons, and an impressive 15-1, 11-4, and 14-1 record during her last three seasons as head coach. For her, the fact that she was and still remains a great friend and mentor to many of her student-athletes is worth more than the numbers.
"Jane guided us both on and off the court," said McAtee. "A lot of students can attribute their success in large part due to her guidance."
"The larger goal is to win of course," said Davis-Brezette. "But the smaller goal is to help student-athletes to be the best that they can be. And in the end, if they had fun, I'm happy."

Davis-Brezette and her husband fund the Robert and Jane Davis-Brezette Scholarship and the Morris and Margaret Smith Davis Scholarship, which are awarded annually to USI student-athletes.
In addition, the Athletic Department established the Jane Davis-Brezette Eagle Award, which is awarded each year to a USI faculty member for his or her contributions to student-athletes and the Athletic Department.
Davis-Brezette joined USI in 1971 and held a number of positions with the University, including chair of the Physical Education Department from 1986-2010 and interim dean of the Bower-Suhrheinrich College of Education and Human Services (now the Pott College of Science, Engineering, and Education), before retiring in December 2012.
Other members of this year's USI Athletic Hall of Fame class include: Tony Colavecchia (Men's Soccer Head Coach, 1988-95), Amy Henkhaus-Cope (Women's Soccer 1997-2000), Robert Kirby (Men's Cross Country/Track 1987-91), Shannon Wells (Volleyball 1999-2002; Women's Basketball 2002-04), Katie Roberts Wilson (Softball 1998-2001), and the 1982 Men's Cross Country Team.