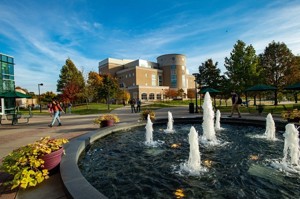 Looking for some new summer reads? The Rice Library staff has you covered. They have compiled a list of book recommendations to keep you entertained all summer long. A complete listing of books and resources available at Rice Library can be found online in the Rice Library catalog.
Small Great Things: A Novel - Jodi Picoult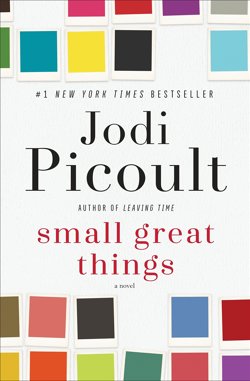 Recommended by: Kathy Oeth, Circulation Manager
Why she recommends it: "For readers who favor nonfiction and books that make them think, this novel challenges beliefs about innate racism, healthcare ethics and the legal system. Strong characters kept me reading to gain insight into their behavior and actions. A great book to discuss with others!"
More about the book: This is a story about racism told from three perspectives: A black nurse not sure what choice to make; a skinhead who is sure of his choices and a defense attorney who is questioning her own choices. It's about justice—or injustice—and how this is defined. It's not just about hate. It's how it is taught and embedded in lives from an early age and the differences that exist about inequality. (Goodreads.com)
Rice Library location/Call number: Rice Library fourth floor, PS3566.I372 S63 2016
The Little Wooden Robot and the Log Princess - Tom Gauld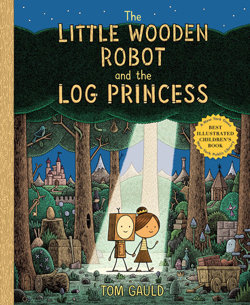 Recommended by: Cecilia Pryor, Senior Library Assistant
Why she recommends it: "This book is phenomenally written and would make an amazing read-aloud book for the entire family. The art is charming and endearing. The story is well-paced and sets up dramatic tension better than some books for adults. While reading it, I became super invested in the characters—a rare quality for an adult reading a picture book. I think people of any age will get something out of this book, and it doesn't take too long to read!"
More about the book: For years, the king and queen tried desperately to have a baby. Their wish was twice granted when an engineer and a witch gave them a little wooden robot and an enchanted log princess. There's just one catch—every night when the log princess sleeps, she transforms back into an ordinary log. She can only be woken with the magic words, "Awake, little log, awake." The two are inseparable until one day the sleeping log princess is accidentally carted off to parts unknown. Now it's up to her devoted brother to find her and return her safely to the kingdom. (Goodreads.com)
Location: Rice Library first floor, CMC Collection, CMC PZ 8 .G286 Li 2021 
All Creatures Great and Small- James Harriet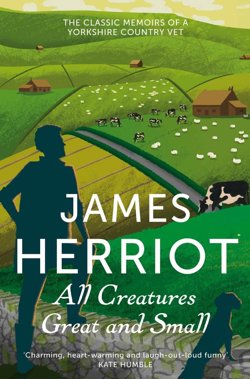 Recommended by:  Peter Whiting, Scholarly Communication Librarian and Professor of Library Science 
Why he recommends it: "I was inspired to read All Creatures Great and Small by James Herriot after watching the BBC television adaptation on PBS WNIN TV Masterpiece Theater program. There are differences between the TV adaptation and the book, but that is to be expected. Now, I should note that my cat, Cupid, was not amused by my choice of books since he would rather be sleeping, eating or bird watching than visiting the vet. Luckily for him, this is a book and not an actual visit! The chapters are not long, so this would be a good summer read. The details are not graphic, so the reader is spared any suffering."
More about the book: This is James Herriot's memoir of his life and work as a veterinarian in the small village of Darrowby in the 1930s. His vignettes in the chapters describe his life as a vet always have a happy ending. The country vet is always experiencing a vet call with a suspicious farmer watching since that is their livelihood. Very amusing and easy to read, delve into the magical, unforgettable world of James Herriot, the world's most beloved veterinarian, and his menagerie of heartwarming, funny and tragic animal patients. (Goodreads.com) 
Rice Library location/Call number: Rice Library fourth floor, SF613 .H44 A28
Other Words for Home - Jasmine Warga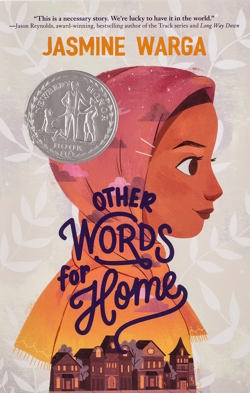 Recommended by: Cecilia Pryor, Senior Library Assistant
Why she recommends it: "This is an important book I think all U.S. Americans should read. It's a very powerful book. Novels in verse aren't usually my cup of tea, but this one clearly deserves the awards it has won."
More about the book: Jude never thought she'd be leaving her beloved older brother and father behind, all the way across the ocean in Syria. But when things in her hometown start becoming volatile, Jude and her mother are sent to live in Cincinnati with relatives. At first, everything in America seems too fast and too loud. The American movies Jude has always loved haven't quite prepared her for starting school in the U.S.—and her new label of "Middle Eastern," an identity she's never known before. But this life also brings unexpected surprises—there are new friends, a whole new family and a school musical that Jude might just try out for. Maybe America, too, is a place where Jude can be seen as she really is. (Goodreads.com) 
Rice Library location/Call number: Rice Library first floor, Midgrade/YA collection, YA PZ 7.5. W28 Oth 2019
Shatter Me Series (6) - Tahereh Mafi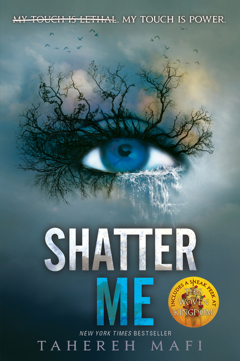 Recommended by: Janet Ruddell, Senior Accounting Assistant
Why she recommends it: "I loved this series because every book is about the same main characters, and you learn a lot about them, what they are capable of, and how they work together to save and are able to follow throughout the story."
More about the book: The Shatter Me series is a young adult dystopian thriller written by Tahereh Mafi and consists of six books (and five novellas). The e-books are narrated by Juliette who is one of the main characters. She is a 17 year-old-girl whose touch paralyzes and kills, taking living organisms' energy. She spent three years in an asylum because she killed a little boy in a store with her touch but only because she was trying to comfort him and wasn't aware of what was "wrong" with her. The series follows her and her extraordinary powers beginning in the asylum and how she learned to control them and use them to help save her friends.
Location: Evansville Vanderburgh Public Library