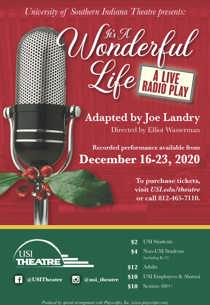 Just in time for the holidays, the University of Southern Indiana Theatre is delighted to present It's A Wonderful Life: A Live Radio Play.  This version of It's A Wonderful Life has been adapted from the movie by Joe Landry and is directed by Elliot Wasserman.  The play has been recorded and will premiere on Wednesday, December 16, 2020 in a "video on demand" format. This means that you can watch our students perform anytime, anywhere, from the comfort of your own home!  The video will be available from December 16-23, 2020.
It's A Wonderful Life: A Live Radio Play takes the well-loved story of George Bailey from the cinematic screen to inside a 1940s radio station in the format of a live radio play production. The story's multitude of characters are portrayed by only five actors who use vocal nuances and the occasional prop to bring them all to life.  In the background, true to radio plays of the time, a sound effects man, professionally called a foley artist, diligently creates the audio needed in time with the play.
Read More: "The Show Must Go On" - Evansville Living
Wasserman will be joined by a design team including USI faculty member Paul Weimer as scenic designer; USI staff member Joshua Stallings as sound and lighting designer; USI staff member Shan Jensen as costume designer; USI staff member Andy Hammond as technical designer; USI student Hadin Hart as production stage manager; and Charles Schefer as cinematic consultant.
The cast of It's A Wonderful Life: A Live Radio Play includes USI students Zayed Braikat, Easton Crisp, Perci Hale, Noah Harrison, Nate Jenkins, Grace Koltz, Trevor Maxey, Samantha Stevens, and Noah Stiles.
Tickets are $2 for USI students, $10 for USI employees and alumni, $4 for non-USI students, $10 seniors (60+), and $12 for adults. To purchase tickets or for more information visit USI.edu/liberal-arts/usi-theatre. Follow us on Facebook at USITheatre and Instagram @USI_theatre for updates and photos.