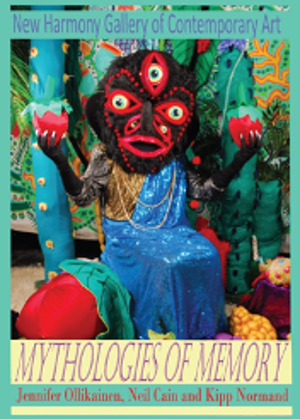 The New Harmony Gallery of Contemporary Art's latest exhibition, Mythologies of Memory, will be on display Saturday, October 10 through Tuesday, November 20. The exhibition will feature Indiana-based artists Jennifer Ollikainen, Neil Cain and Kipp Normand in partnership with Indianapolis-based Big Car Collaborative.
New Harmony has long influenced these artists and their work. As part of the Social Alchemy project, in partnership with Indianapolis-based Big Car Collaborative, this exhibition taps into the history, existing art and architecture that has made the town a destination while also feeding the creative energy of so many artists and intellectuals for centuries.
Mythologies of Memory is based on the thought that great and lasting artworks should be ambiguous and tap into the stories and myths humans have used for centuries to explain the world and themselves. Our mythologies are mirrors. The work of these three artists look to the past and future while providing a window into both the real and imagined through familiar mediums and genres filled with icons, symbols and colors.
Ollikainen creates soft sculpture environments, fabricates wearable masks and costumes utilizing fabric along with a variety of materials that come alive through performance and video art — telling stories and creating a dialogue with the viewer. "To make masks is to take part in an ancient and rich human tradition. Masks provide a meaningful way for humans to connect with each other, with nature, and also with the unseen realms of spirit, combined with storytelling, ceremony and ritual, masks have the capacity to fill the spiritual and cultural voids in our modern lives," Ollikanien said.  "I strive to use this artform as a tool for connection. I hope to spark wonderment and imagination within the viewer, perhaps allowing them to remember something special they have forgotten. I also see my practice as an opportunity to aid in our collective remembrance of shared histories as a means of reimagining what it is to be human."
Cain's oil paintings are a reaction to what he views as a consciousness bias in our culture towards ordered states of being and thinking. "This bias," says Cain, "contributes to individualistic resource management, social division and centralized state control. The artist must counteract these forces by presenting harmonious alternatives. I paint to present the beauty of ordered and non-ordered states interacting. I see each as integral to the full expression of the other and essential to true understanding."
Normand's cyanotypes are a new medium for this artist and historian. His art is a physical and conceptual investigation into the power of objects and images as a narrative device. Inspired by the Dada traditions of assemblage, collage, construction and performance, Normand employs the acts of appropriation, reuse and recontextualization to explore contemporary perceptions of time, community and memory.
The Social Alchemy project is a multifaceted, multiyear, interdisciplinary project in partnership with Big Car Collaborative, University of Southern Indiana, Historic New Harmony, New Harmony Gallery of Contemporary Art, Working Men's Institute and Indiana State Museum. This project explores historical and contemporary examples of utopian experiments, fictional utopias and dystopias, and social design projects. It offers a deeper understanding of the relationship between the built environment and social good. For more information, visit the Social Alchemy project.
This exhibition is made possible in part by the Arts Council of Southwestern Indiana and the Indiana Arts Commission, which receives support from the State of Indiana and the National Endowment for the Arts.
The New Harmony Gallery of Contemporary Art is an outreach partner of the University of Southern Indiana. The gallery is located at 506 Main Street in New Harmony, Indiana. Regular hours are 10 a.m. to 5 p.m. Tuesday through Saturday and Noon to 4 p.m. on Sundays. For more information, call 812-682-3156 or go to USI.edu/nhg