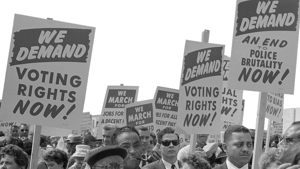 The University of Southern Indiana Social Work Department welcomes Dr. Gena McClendon as she presents the 2020 Sydney Berger Lecture. Her lecture, "Electoral Justice Meets Democracy: Challenging Racism and Systemic Barriers through Research and Practice," will be presented virtually through Zoom at 4:30 p.m. CDT Wednesday, October 21. The public can attend the webinar by using the Zoom meeting ID 974 9346 8662.
McClendon is director of the Voter Access and Engagement and the Financial Capability and Asset Building initiatives at the Center for Social Development at Washington University in St. Louis, Missouri. Her work primarily involves policy research analysis and consultation with community-based programs, academic institutions, state and federal policymakers and advocacy groups.
McClendon's program development and policy advocacy work focuses on issues related to voter suppression and civic participation of low- and moderate-income households and marginalized populations. Her research focuses on identifying and advancing practice and policy strategies that support an inclusive democracy and the professional training of social work students. Other interest areas are the racial wealth gap and coalition development.
McClendon earned a doctorate in Urban Higher Education from Jackson State University in Jackson, Mississippi. She received a  master's degree in management and leadership from Fontbonne University in St. Louis and a bachelor's degree in  health management from Southern Illinois University in Carbondale.
The Berger Lecture is presented each year by the USI College of Liberal Arts in honor of Sydney Berger, one of Evansville's most respected attorneys who worked with local civil rights organizations and served as an instructor at USI for nearly two decades. Each year, a guest lecturer presents on the theme of civil rights or civil liberties, celebrating the values Berger cherished.
Questions about the presentation can be directed to Dr. Elissa Mitchell, Assistant Professor of Social Work and Director of the USI Center for Social Justice Education, at 812-465-1006 or etmitchell@usi.edu.