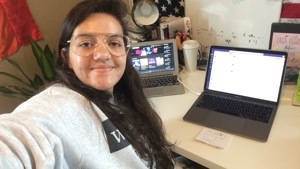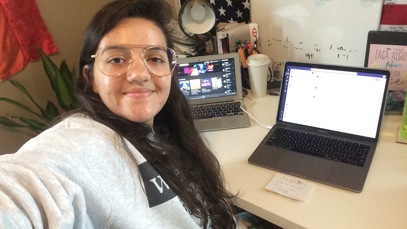 After USI's Spring Break, as COVID-19 became more prevalent and classes and most University jobs became remote, Taynara (Tay) Oliveira de Almeida M'21 decided to return to her home country. "I am a nurse in Brazil, and I thought that maybe going home, if Brazil needed nurses, I would be available to work," she said.  
She also wanted to be nearby if either of her grandmothers needed help. Months later, while Brazil, like the United States, struggles to control the spread of the virus, her family remains healthy. But because the U.S. border to Brazil is closed, Almeida plans to study abroad (at home) during the Fall Semester.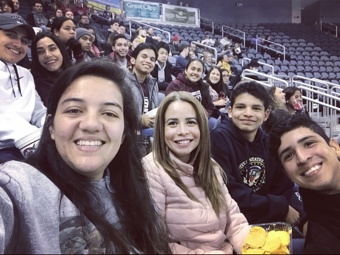 Despite the physical distance separating her from USI, she's continued her duties as a graduate assistant in the International Admissions office.  
"If anything, we have added more work," Gina Schmitz, International Admissions Coordinator, said of Almeida's load, which includes indexing documents, researching transcripts, communicating with students and maintaining the office's social media accounts. "We have this great connection," she added. "She's hands down the best GA I've ever had."  
After sorting through some initial logistic issues, IT helped Almeida gain remote access to her computer on campus. "I actually work from Evansville, I work right next door to Gina," said Almeida, "Except, I'm not there." For several months she logged on from her home in Brazil's capital, Brasília, before transferring her remote office to the countryside while visiting relatives.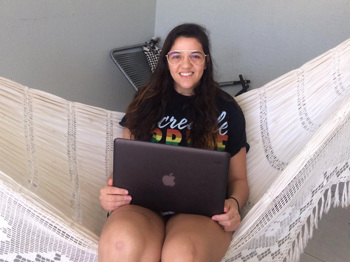 Though she could graduate in December, Almeida, who first attended USI in 2014 as an exchange student, plans to postpone her final semester until the spring, when she hopes to return and complete her master's degree in health administration in person. In the meantime, as she continues her studies and graduate assistantship, she's looking for part-time night or weekend work as a nurse in Brazil. 
Through it all, she's doing her best to see the benefits of this unusual cross-continent experience that's affirmed the importance of patience, organization, flexibility and resilience. "None of this would be possible without the support of the incredible Center for International Programs. They all advocated for my remote work and for the renewal of my assistantship," said Almeida. "They secured not only my studies and work but the peace of mind of knowing that I can spend some valuable time with my family."